It is no secret that the world is transitioning from that of brick and mortar storefronts and physical magazines into the revolving doors online. Instagram has proven to be one of the best social media platforms for photographers to build an audience, attract potential clients and network. Likes are a necessary evil.
While there is no magic formula for the perfect photo, there are ways to get people to stop and check out your work. Mango Street has compiled a list of 8 tips from an article published by Psychology Today as well as a study conducted by Curalate to help you Instagram Better.
Color Theory & Composition
A single color dominance that makes up at least 40% of the images feels consistent and reliable and tends to keep people coming back for more. When choosing a color theme, it is important to take color theory into consideration and the impact that it has on the viewer.
Yellow, for example, is associated with happy and attention getting. It also generates muscle energy and certain shades have been found to make people feel antsy, hurrying to get in and get out. While this is great for chain stores such as Build-A-Bear, it isn't ideal for those looking to increase engagement. On the other hand, blue is considered to be beneficial to the mind and body; it symbolizes loyalty and confidence and creates a feeling of calmness and serenity. This is why feeds with blue throughout tend to be more popular.
The study also found that slightly desaturated images with adequate negative space, texture and are bright and airy tend to get more love.
Be part of the community.
Many photographers sell themselves short by failing to realize that Instagram is so much more than an image sharing platform – it's a community. Do not use bots or pods as Instagram tends to only reward real user engagement.
Take the time to genuinely like and interact within the platform as people generally want to reciprocate. Scroll through various feeds and like/comment on multiple photos in the same fashion you hope people scroll through yours.
The Instagram algorithm tends to deem a comment as unique if it is not commonly used and contains four or more words. Funny and/or engaging captions are a great way to get users to spend more time and interact with your post.
No matter what your style, these are all things to take into consideration as you curate a gallery and mold it as you see fit so that it flows. The more time you spend participating in the community the more likely you are to reap the benefits.
The following video packs a lot of information into four minutes. Be sure to check out Mango Street's YouTube Channel for more.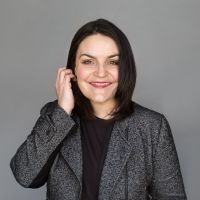 Brittany Smith
Brittany is a fashion and beauty photographer who works between NYC, Montana and LA. She photographs the way she has always wanted to feel and believes in the power of raw simplicity. When not behind a camera she can usually be found at a local coffeeshop, teaching fitness classes at the YMCA, or baking something fabulous in the kitchen. Instagram: @brittanysmithphoto