The mark of a new year for a wedding photographer is both bliss and agony rolled into one. While we love downtime and a bit of R&R, the inevitable adrenaline rush of the summer is just around the corner, taunting us and reminding us that we all have something to work on.
Whether it's your technique, your business model, or even your place in this industry, take this time to hone your craft to make this wedding season your best yet. Here are six recommendations on how to keep busy:
1. Education
This is obviously something we can't stress enough here at SLR Lounge, but education is the one thing we always make excuses for, especially during the summer when we are non-stop shooting. Now that things have slowed down maybe it's time you learn a new thing or two when it comes to off-camera lighting? Or maybe you need to step back and evaluate your post-production style and efficiency rate. Whatever it is, this is your time.
Join Premium
2. Social media Marketing
You've shot a couple of weddings this past year and haven't really had the time to market yourself, but don't sweat it, this happens to the best of us. Go back through old catalogs and find your heavy hitting images, whether it be:
Environmental Portraits
Intimate Portraits
Wedding Decor Detail Shots
Ring Shots
Candid Moments
Best Of Your Engagement Sessions
Using an online-scheduler like Schedugram or Pixbuf, scatter these images over the course of a couple months (let's just say February – April considering that's kind of when wedding season picks back up again). Add relevant hashtags using FocalMark, an app designed to provide photographers with the right hashtags to get seen by the right audience. Obviously, you don't need to purchase a scheduling app if you would prefer to do the job manually, but it does take a lot of tedious effort to be on top of it everyday.
This is going to be your main source of referrals since most clients go fishing for wedding vendors on Instagram and Facebook in addition to listening to word-of-mouth referrals. So, get to 'grammin!
3. Networking
These next couple of months before the Spring are like a photographer's childhood summer vacation, filled with late night binge-watching and long-awaited free time. Although catching up on the latest season of House of Cards may be tempting, this might be the perfect opportunity for you to reach out to vendors you have had the chance to work with in the recent past for a styled shoot or get together at a networking event.
Keeping vendor relations strong should definitely always be one of your goals to strengthen and grow your wedding photography business. These bonds will only grow your clientele and allow you to diversify your work.
4. Publications
Recognition from magazines and online publications is an easy way to market your business without having to do much of the work. Here are some possible publications to consider:
If manually sending out inquiries isn't your thing, you can always try out Two Bright Lights, an online service that lets you submit to multiple, reputable publications. This is another great opportunity to get chatting with your fellow vendors on how to get your work featured and get the credit and recognition you deserve.
5. Shooting
In case you haven't heard the age old phrase 'practice makes perfect', I am here to remind you that this is in fact proven true. What better time to experiment with lighting, special effects, or even post-production styles than during the off-season? There is no standard to be met nor is there a deadline on when something is due and therefore, there is no better time to just play around and rekindle your passion for photography.
Here are some of our special effect tutorials to check out:
6. Album/Canvas Sales
Incorporate Album and Canvas Print sales into your business model to increase revenue and give clients a reason to come back for more. After a wedding, wedding photographers are usually just held accountable for the images they captured, but adding in custom Album Design can really add value to your business. This doesn't have to take up too much of your time with programs like Fundy Designer paving the way for efficient album design and creation. Map out a business model for these additional products and add them into your existing contracts so that clients are aware of them during the booking process. Here are some resources to help you get started:
Join Premium
So stop watching re-runs of Friends and start pushing your business forward – it's more important now more than ever to stay relevant on social media and in this industry. For more marketing tips check out our Photography SEO and Web Marketing E-book, available in the SLRL Store and as a part of SLRL Premium.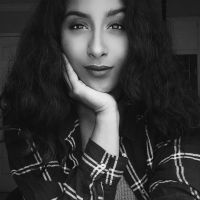 Shivani Reddy
Shivani wants to live in a world where laughter is the cure to pretty much everything. Since she can't claim "Serial Bingewatcher" as an occupation, she'll settle for wedding/portrait photographer at Lin and Jirsa & marketing coordinator here at SLR Lounge. For those rare moments when you won't find a camera in her hand, she will be dancing, eating a donut, or most likely watching Seinfeld. Follow her on Instagram:
@shivalry_inc