We are excited for our new series, Ask SLR Lounge, where you ask the questions and we answer them on Facebook Live. This is an open forum for you, our community, to ask us anything you want.
Join Premium
To submit your question, go to slrlounge.com/ask-slrlounge and leave your question in the comment section of the post. Check out our previous question where we answered what would consist in our complete wedding photography kit if we had a budget of $20,000 – here.
Our next question comes from Antonio, an SLR Lounge Premium Member, who asks:
How do I transition from full time employee to full time photographer without my family going hungry?
Watch the Facebook Live video to see our answer to the question:

step 1: Determine if photography is a hobby or a passion
There is a fine line between deeming your work a pastime and making it a career path. In an age where hundreds of photographers are blooming daily, it is up to you to determine whether or not you have the drive to take your passion and make a sustainable living out of it. There are many factors that come into play when you do choose to be a full-time photographer; after all, it is a customer service industry and at the end of the day your client's happiness dictates the success of your business.
step 2: Full-time or Part-time?
Now that you have made the decision that photography is indeed a passion you want to pursue, how do you determine if you want to take the big leap to go full-time versus maintaining your day job and going part-time? Ask other photographers how they made their way into the business and use that knowledge to evaluate whether or not you are capable of doing that with your own career.
Most of the time the negotiating factor is whether or not you have the time and energy to work after a 9-5 work day.
Step 3: Deal with the Consequences of Choosing Full Time
Leaving your job takes courage, I'll give you that, but what really requires bravery is facing the financial issues that plague entrepreneurs. Our advice is to clear close to all of your debt prior to taking the leap, that way you have a clear path of how to portion your money. It might take up to 1-2 years to get to a point where you are breaking even or earning actual income, but it all just depends how hard you are willing to fight to make your dream into a reality.
Step 4: Gain Experience, Educate Yourself, Establish Your Product
Fair, those are three steps in one, but they all funnel down into one main idea: knowledge is power. Photography education sites, workshops, tutorials are all geared to help you hone your craft and grow your business. SLR Lounge Premium was designed with that exact idea in mind, hoping to give photography entrepreneurs the tools to build your business and master your domain.
step 5: Shoot, Market, & Repeat
As a new business starting up, your greatest challenge will be acquiring the right clients. Start by photographing friends, family; anyone you can find in order to build your portfolio and show your worth. Getting practice in the field is the first step to getting exposure.
Join Premium
Use your images as marketing material, posting to social media to show that you are open for business. The world of marketing holds so much potential for small business growth and, although it can be daunting, is worth exploring to find out what facets of your business are being underutilized. For an in-depth understanding of marketing strategies check out our Photography & SEO Book.
Step 6: Be prepared to Weather the Storm
Above all, remember that this process, this shift from what is considered the norm, will put you through the ringer. You may doubt yourself, waiver between decisions, and fail multiple times along your way, but if photography truly is where you see yourself being happy and successful on your own terms, push to make your dream a reality.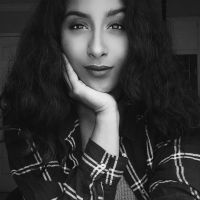 Shivani Reddy
Shivani wants to live in a world where laughter is the cure to pretty much everything. Since she can't claim "Serial Bingewatcher" as an occupation, she'll settle for wedding/portrait photographer at Lin and Jirsa & marketing coordinator here at SLR Lounge. For those rare moments when you won't find a camera in her hand, she will be dancing, eating a donut, or most likely watching Seinfeld. Follow her on Instagram:
@shivalry_inc