Welcome to Time Out with Tanya, where I've put my fast paced graphic design career on hold in favor of adventures in motherhood. I'm capturing every moment on camera and you can come along, if you'd like. Sign up for my weekly email here so you'll never miss a Time Out.
I have to admit, I avoided using Instagram for a long time. How about you? I felt it was beneath me as a serious photographer. But then I tried it, and now I'm hooked. I'm probably the only photographer on the face of the planet who uses an Android Samsung Galaxy phone instead of an iPhone (hey, don't judge me. I have my reasons). Many of my beginning photography enthusiast friends always ask for tips for taking better photos with their phone. While the camera phone has its limitations (camera shake, anyone?), there are simple things you can do to improve your camera phone snap shots. Here are my 10 beginner tips for creating better cell phone pics.
1. Be Prepared
There's nothing worse than feeling inspired to take a great shot with your handy cell phone, and then realizing the battery is about to die. It sounds like a no-brainer, but my first tip is to make sure you have battery power. Having an extra charged battery on hand is actually one of the first things I recommend to people who are getting serious about taking photos with a "real" camera, so why not follow suit with your cell phone? It's not practical to carry an extra battery around for your phone though. One thing I do is buy an extended battery pack for my phone. It makes it heavier, but the battery lasts all day and night!
Another helpful little gadget I love is the Nomand Charge Key It's available for Android and iPhone. Since I received it in the mail, I've had a hard time holding onto it because my husband keeps stealing it from me. It fits nicely on a key chain, which is the one and only other item you'll probably have with you when your phone is about to die. It plugs into any USB port and is rugged and flexible so you don't have to worry about it getting ruined. You can also use it to transfer files from your phone to your computer, which is helpful if you don't have WiFi available, or your Dropbox is full. I love it.
A professional photographer friend of mine, Michael Franklin who uses an iPhone, tested one out, too and here's what he had to say about it:
I have been using the Nomad ChargeKey for the past few weeks and I have to say it's kind of handy to have around. Nearly every place I go has a USB port I can tap into. The problem in the past was that I never had a charging cable with me when my phone was about to die. That issue is resolved because I always have the Chargekey attached to my key ring, which is always with me.
From a design stand point I love it as well. It's made of a flexible rubber, which allows for an easy connection in even the most difficult to get to USB ports. In addition, you never receive the error that this cable is not compatible with my iPhone. Bottom line is, I love it because it is always with me and it just works.
Nomad launched their first product, the ChargeCard, last year on Kickstarter and exceeded their goal by 300%. In the nomadic spirit, they accept barters as a way for people and companies to exchange their own goods and services for ChargeCards and ChargeKeys. Crazy! This last year they received an overwhelming response, ranging from custom bikes and die-stamped office furniture to wall art and artisanal popcorn. Hmmm, what could I trade with them to get a ChargeKey for my husband????
2. Change Your Perspective
From a compositional standpoint, choosing a unique perspective is an easy way to make your photography more interesting right off the bat.
It doesn't require any technical know-how to get in closer, shoot from above or below, or whatever might be a different angle than just pointing and shooting from your own eye level.
3. Pay Attention to the Light
Everyone says it, because it's true. In photography, no matter what kind of camera you're using, the quality and amount of light falling on and around your subject are going to make the biggest difference in the outcome of your image.
Find creative ways to light your subject. Here, the kids are playing with their tablets while snuggling in bed with me one dark winter morning. If you need more ideas and exercises for finding the light, I recommend reading The Unexpected Everyday, By Courtney Salzinik. Read my review of the book by clicking here.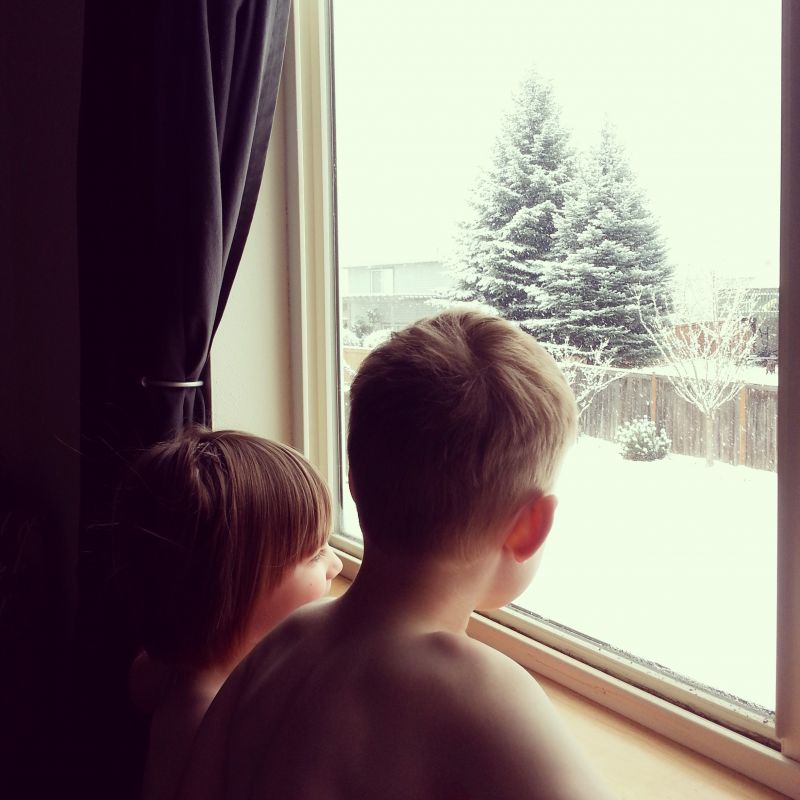 4. Adjust Your Settings
Did you know you can adjust several settings on your phone camera? Yes, it's true. The one setting I adjust most frequently is the exposure value. In the photo above, the bright light coming in from the window was causing my subjects to show up in the picture as silhouettes. I wanted the detail of the their little faces to show, so I just bumped up the exposure a notch or two. Easy fix! You can adjust things like the white balance, contrast, ISO, focus mode, etc. Obviously every phone and camera app is going to be different, so I encourage you to just start pushing buttons and exploring (or google your particular model) to find out what your phone can do.
5. Tell a Story
Try to tell a story with your images. This can be accomplished in one frame, or a series of three or more pictures. This is a fun way to document your life, without having to write down any words at all.
6. Change Your Focus
It's easy to change the focus on a touch screen phone. You simply tap the screen in the area you would like to focus on.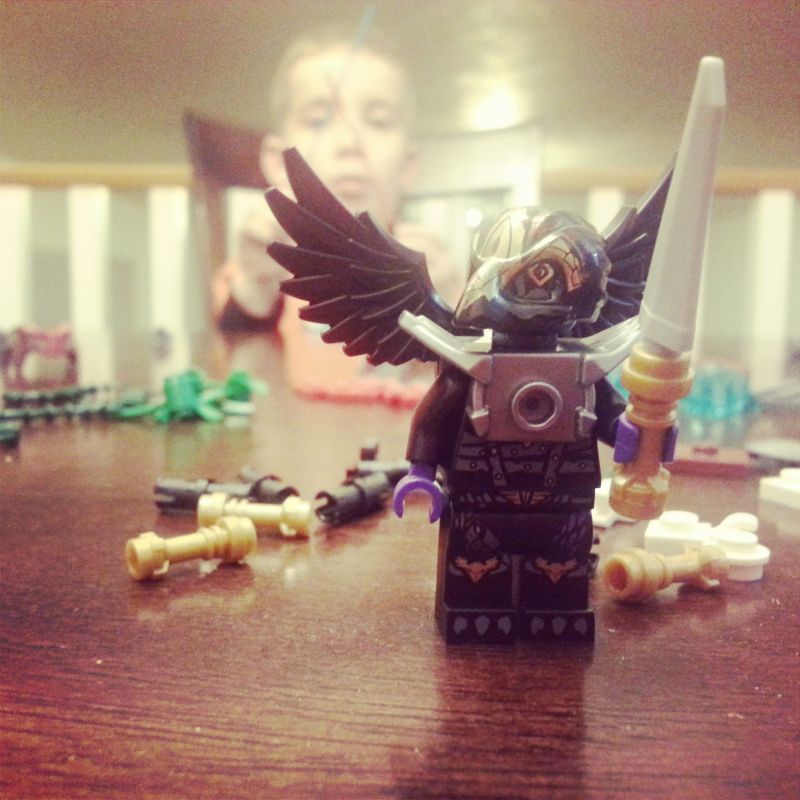 Focusing on an object in the foreground or background of your image can add dimension and help tell the story you want to tell.
7. Frame Your Subject
One of my favorite compositional "tricks" I'm always trying, is to frame my subject. This helps draw the eye in to your subject. You can use a door frame, window, railings on a chair or fence. Whatever you can find to add a frame within the frame of your image.
8. Look for Reflections
This is a pretty literal example, a photo of my daughter making funny faces in the mirror, but reflections can also help add dimension to your images. It's also a sneaky way to photograph someone when they aren't really aware (since your camera is pointed at the reflective object, not your subject). Try looking for reflections in windows, puddles, the side of a car or any shiny object.
9. Use Filters Responsibly (If You Must)
A filter can enhance the look of your photo, but sometimes they can actually make them look worse. Choose wisely which filter you will use. If there's a lot of grain or distracting colors in the image, use a black and white filter. If the colors are dull, use a filter to brighten them up. You can also add a vignetting or blurring tilt shift effect in Instagram, but I generally stay away from these unless there's a logical reason for adding them.
10. Edit in Lightroom
While newer camera phones may support RAW file formats, which would allow for more control over the editing of files, you can still edit your jpg files in Lightroom or Photoshop even if your phone doesn't support RAW! If you grabbed a shot that could use a little more editing than a filter can provide, don't be afraid to upload it to your computer and enhance it with your photo editing software. I use Lightroom and processed this image with the Ivory Vintage Punch Preset from the SLR Lounge Lightroom Preset System. I also fixed the horizon line and cropped the image in a way that wouldn't be possible in Instagram. I generally like a pretty clean edit, but you could get super creative if you want by adding custom textures in Photoshop or cloning out distracting elements from your photo.
Conclusion
So, those are my top 10 beginner tips for creating better cell phone pics. I'm sure I could go on and on with more ideas, but I'd love to hear some of yours, too. What do you do to make your camera phone photos better?
CREDITS: Photographs by Tanya Smith are copyrighted and have been used with permission for SLR Lounge. Do not copy, modify or re-post this article or images without express permission from SLR Lounge and the artist.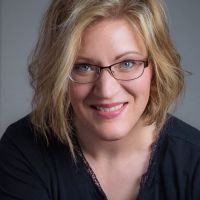 Tanya Goodall Smith
Tanya is the owner of WorkStory Branding Photography in Spokane, WA. Businesses hire her to create story-telling content that sells their high end products and services. She also teachings photographers her unique business model for making serious money as a corporate and personal branding photographer. Find her at
workstoryphotography.com
and
workstoryeducation.com