It was not all that long ago that Flickr rolled out their big redesign, and not their chief competitor has rolled out one (albeit a smaller one) of their own. 500px announced today that they have completely redesigned the photo page on their site.
The new photo page layout – which 500px is dubbing "Focus View" – is focused on putting more emphasis on images, displaying them larger, and making use of more screen real estate.
The new Photo Page offers photographers a more visually appealing way to showcase and share their work online than ever before. We have also improved the browsing aesthetic for non-photographers, so you can continue to spend hours watching beautiful photos.
New Feature Listing
The 500px photo page redesign includes the following features:
Focus View feature for photos, enables full-screen view with simple shortcut 'H' and maximizes photo browsing experience.

Shortcuts are located below each photo in Focus View. Click on a photo or press 'H' for Focus View. Press 'M' to maximize the photo, 'L' to like, and 'F' for favourite.

Arrow keys let you go back and forth between photos to mirror the ease of 500px iPad App experience on your computer screen.

Larger photos on Popular, Editor's Choice, Upcoming and Fresh feeds and on your profile.

Photos expand in size for superior viewing on larger monitors.

Optimized viewing for panoramic photos, they look better than ever before.

Photographer information, easy sharing and like & favourite buttons are featured in the new header.

Comments are located below the photo as well as a visual list of the people who've favourited or liked the photo.

Want to know who was the last person to V&F your photo? Just look to the bottom right, and easily expand to see a full list.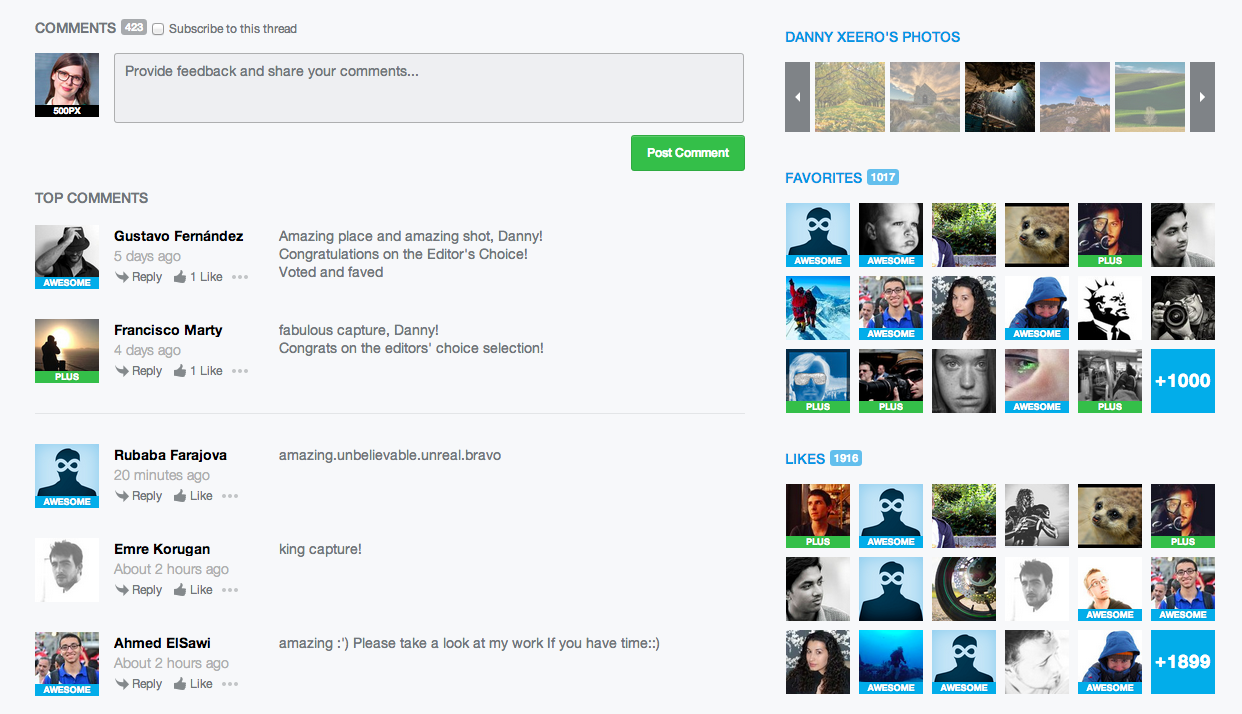 My Thoughts
Overall I like the changes, I think that they succeed at bringing more emphasis on the images. The limited amount of time I have used the new design have been a little frustrating, but that is mostly due to the fact that I am not used to the layout and shortcuts quite yet.
These new photo pages as well as the new portfolios have really improved on what was already a great product at 500px. I am very curious to see what they will upgrade next.
What are your thoughts? Do you like the new photo page, or do you prefer the old one?
[via 500px]