Welcome to Time Out with Tanya, where I've put my fast paced graphic design career on hold in favor of adventures in motherhood. I'm capturing every moment on camera and you can come along, if you'd like. Sign up for my weekly email here so you'll never miss a Time Out.

Number 18 on my list of 100 WAYS TO BE A MORE CREATIVE PHOTOGRAPHER is to take a photo walk. I recently took a photo walk with a group of women at Click Away 2014 in Salt Lake City and Park City and, although I wish we had more time (we only had about an hour, which just wasn't long enough for me), it was an eye opening experience.
The last time I did some serious street photography was during my time as a student in L.A., which is a fantastic city to photograph, by the way. On my walk in Salt Lake, while I was busy snapping away, I overheard many of the women saying they didn't know what to take pictures of, since they don't do landscape or architecture, just portraits. I've been thinking about those comments ever since.
Even if you're not a street photographer, doing a photo walk can benefit you in so many ways. I encourage you all to get out there and do one. I would like to do them more often, as they are a great way to hone your skills.
Here are 5 ways to improve your street photography and why you should do a photo walk asap…
1. Choose a Theme

One way to get over the hurdle of not knowing what to photograph, is to choose a theme. It could be a physical object (like Steve Pellegrino's Reflections of the Arch series) or a word or concept. Maybe you want to do a study on graffiti or homelessness in your city. Or you could choose a word like "joy" or "hope." You could even just pick a color to watch out for while you're photographing. You might not even know what your theme will be until you get out on the street.
2. Improve Your Composition

Going on a photo walk is the perfect time to brush up on your composition skills without the added pressure of a paying client or even a human subject. Take the time to look for ways to add interest to your images. Here are things to try:
Look for light and shadow
Look for shapes, lines and patterns
Shoot from above
Shoot from below
Frame your subject
Find symmetry
Play with color
Experiment with depth of field
What else could we add to this list? Tell me in the comments.
3. Stop Worrying About What People Think Of You

One thing you'll notice when you go on your very first photo walk (or photograph your first wedding) is that you'll feel incredibly self conscious. At least I did! Doing a photo walk will help you get over that feeling. Who cares what people think of you? You have the right to take photos on public property. Use judgement and discretion when photographing people and you'll be fine.
Check to make sure you know the laws regarding street photography in your area. In L.A., for example, many "public" businesses don't allow photography of any kind on their property because of the film industry. You need a permit and have to pay a fee. Security guards were everywhere reminding us of this fact, so if that's not the case, you're probably ok (especially if you aren't using the photos for commercial purposes).
4. Pretend You Are a Spy

If you've never heard of Vivian Meyer, you need to look her up immediately, especially if you're at all interested in street photography. I read once that she would tell the lab workers where she dropped off her film that she was a spy. You can, too, if you want to capture some authentic street scenes that include people. Just don't go overboard on this, or you'll come across as a creeper, LOL.
5. Try a New Technique

There's no better time than a photo walk to try something new. Maybe you've been wanting to experiment with long exposure, shutter drag, or a new lens. Maybe you just got a new camera and need to master nailing focus before taking it on an actual shoot. Head out on your photo walk with those things in mind and give them a try. During my photo walk in Park City, I met a woman who had a Lensbaby and she let me try it out. It was so cool!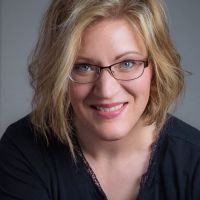 Tanya Goodall Smith
Tanya is the owner of WorkStory Branding Photography in Spokane, WA. Businesses hire her to create story-telling content that sells their high end products and services. She also teachings photographers her unique business model for making serious money as a corporate and personal branding photographer. Find her at
workstoryphotography.com
and
workstoryeducation.com