Do you remember that intoxicating rush of endorphins at the very onset of your photography journey? That first body of work that is created is a uniquely satisfying crown of achievement and this is the pivotal moment that many hobbyists begin tossing around the idea of whether or not they should turn their hobby into a business.
The next step in this natural progression is to create a portfolio that is worthy of attracting potential customers. In the beginning stages there is a tendency for budding photographers to want to put everything of merit out for the masses to see, and this is usually a mistake.
As the number of photographers entering the profession continues to increase with each season, it is imperative to create a successful representation of your work. Here are a few tips.
Separate Websites
It may seem like a good idea to use a portfolio website as a one stop shop that includes every photography genre that is of interest and has decent work to display. While it may seem convenient at the time, it is more likely a disservice for the client. Each genre to be pursued should have its own separate website.
We live in an age of convenience and having to click through a website out of necessity, not desire or interest, to search for something is anything but. Many people will not take the time to scroll through a website searching for what they originally went to Google for in the first place if it isn't front and center.
Specific Categories
Specificity is the name of the game and website portfolios should be created with the client in mind. They should be straightforward, easy to navigate and attention grabbing. A good way to do this is separate a body of work into different books or categories.
As an example a wedding photographer could have multiple books within their portfolio including surprise proposals, bridals, weddings and elopements. A portrait photographer would probably have several books including families and senior portraits while a fashion photographer will have separate books for fashion and beauty.
Less Is More.
It is all too easy to become emotionally attached to a body of work and culling the images can be heartbreaking. Don't take it personal. A good rule of thumb is to have no more than 20 images per folder and no more than 1-2 images from the same set. Additionally, no two images should be too similar, although there should be a common aesthetic throughout.
Fewer powerful images are better than multiple images of mediocre value that end up diluting an otherwise potentially stellar portfolio. The idea is to curate a gallery and create the biggest bang for the buck, or in this case, have the most powerful images that make the viewer crave to see more.
Peers within the industry are a good place to start curating and, if all else fails, there are always image consultants who get paid for this exact service. Don't be afraid to cull, cull and cull some more. Instagram was made to house these images and pick up where a website leaves off.
Consider the Client
Statistically, a website has seven seconds to entice the viewer to stay before they bounce. One of the best ways to allure an audience is of course by having a strong portfolio. The next best thing is having a simplistic website to showcase the work that is as easy to navigate as it is pretty to look at.
The theme should be reminiscent of what you want to convey as an artist and the images should load in a timely manner. If any one of these aspects does not measure up a potential client will most likely not stay around to figure it out.
Remember that the platform and body of work go hand in hand. An impressive portfolio on a subpar website can be forgiven, however the same sentiment does not necessarily hold true in reverse.

Think About The Future
Many website platforms have a ton of bells and whistles such as a blog, client proofing and image protection. Although a service may not be needed or seem relevant at the time doesn't mean it should be ruled out as these extra services can be de-activated for the time being. It is better to have the future option in the beginning than to be left scouring for the service should the need arise.
There are a ton of portfolio and website platforms to fit a variety of niches and satisfy all of these needs. Here are some of our favorites.
A strong portfolio is one of the most foundational tools a photographer has and will create a lasting first impression for potential clients. The key is to make it as eye-catching and user friendly as possible during those first precious seconds.
Related Articles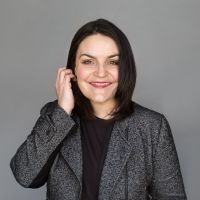 Brittany Smith
Brittany is a fashion and beauty photographer who works between NYC, Montana and LA. She photographs the way she has always wanted to feel and believes in the power of raw simplicity. When not behind a camera she can usually be found at a local coffeeshop, teaching fitness classes at the YMCA, or baking something fabulous in the kitchen. Instagram: @brittanysmithphoto