Welcome to Time Out with Tanya, where I've put my fast paced graphic design career on hold in favor of adventures in motherhood. I'm capturing every moment on camera and you can come along, if you'd like. Sign up for my weekly email here so you'll never miss a Time Out.
Like many parents, I never photographed a baby until I had my own, and then I found out how difficult it really can be. The first time my son had his portrait taken, I hired a photographer who came to my house, which I had never heard of before, and it was the greatest blessing ever! No need to wake my son from his nap in order to get him ready and out the door on time. No stress about packing up a huge bag with everything we'd need, or getting to a studio and realizing I forgot the pacifier. No worries about a blow out diaper or spit up on the outfit, since I could just change him right there at home. So nice!
Now that I photograph other peoples' babies, I always offer to come to their home for all those reasons. But showing up on-location requires more preparation and set-up than working in-studio, which can be time consuming and difficult at times. With the right preparation, bringing all your gear on-location for baby portraits can be a breeze. Here are my 5 tips for effortless on-location baby portraits…
1. Timing is Everything
When scheduling a baby or toddler session, I always ask mom about nap times and feeding schedules and try to work around those. Try to arrive right after nap time when he is going to be the happiest and let mom feed him right there while you're setting up. Or, if he's happier before nap-time, go with that. If he tends to spit up a lot after eating, have mom feed him before you arrive. Communicate with the parents and figure out what's best for baby.
Also, keep in mind that babies are unpredictable so you have to be flexible. I go in with very little expectation of how baby will behave and just go with whatever happens. Stay relaxed, be calm, reassure mom that fussiness is ok. Slobber is fine. It's ok to take breaks for feeding, changing, comforting.
2. Travel Light
The first time I did a baby portrait on-location, I took all my lighting gear, my portable backdrop stand and several backdrops, a posing bean bag, a bunch of pillows, baskets and props. It was a whole mini-van full! And it took a lot of time to set up and I was sweating buckets before I even started taking pictures. What a pain!
After that session, I decided I needed to simplify. My backdrop stand comes in a handy carrying case, so that's still very portable, depending on what I'm going to use for a backdrop. At the Clickin' Moms Click-Away Conference last summer, I came across an even better solution for on-location baby portraits. The Little Studio from Lollipop Props is the perfect, lightweight pop-up backdrop for on-location sessions. The fact that it comes in a nice carrying case with a handle is a major plus. Especially since the different backdrop options that velcro in place fit right in the bag, along with the optional baseboard and foam flooring. Stay tuned for my full review of this handy mini studio next week!
In lieu of a backdrop, you could also just go with whatever backdrop you can find in the home. The master bedroom usually has great light and a large bed can be a perfect place to photograph a baby. Use your judgement and your artistic eye to find something that will work. As far as gear is concerned, I shoot with a Canon 5D Mark III and Canon 24-70mm f/2.8L II lens.
3. Natural is Best
Natural light, that is. Rather than lug a bunch of light stands, soft boxes and flashes with me, I'm making every effort these days to use natural light on-location whenever possible. Aside from the fact that it's less stuff to carry, I also find it less disturbing to the baby and less of a distraction to me. I'll bring a couple reflectors and my speed light, just in case I'm desperate for some fill light, but otherwise I'm leaving my lighting at home for baby and kid portraits.
Not sure how to get the most out of your available natural light? I highly recommend watching the SLR Lounge Newborn Photography Workshop. All the tutorials in this incredibly comprehensive DVD for beginners utilize natural light to create professional quality newborn images.
4. The Right Support
Depending on the age of the baby or child you're photographing, you might need a little posing support. Many photographers swear by specific posing bags and wedges, which are great if you're leaving them all set up in your studio space, but when you're going on-location, lugging all that stuff in with you just takes too much time. I use a Mombo Nursing Pillow (similar to a Boppy, but offers more support) or pillows I find at the client's home. Mom or an assistant you bring with you can help with supporting the baby. I generally try to stick with age appropriate poses, which is a subject for another post…
5. Practice Makes Perfect
The most important thing to remember about photography in general, especially when working with babies and kids, is that practice will make all the difference. You'll learn through experience how to engage with those little humans, how to remain calm when they won't stop crying, how to nail your exposure in low light or manipulate the light to work in your favor, etc. Don't give up and just keep trying. I know you can do it!
CREDITS: Photographs by Tanya Smith are copyrighted and have been used with permission for SLR Lounge. Do not copy, modify or re-post this article or images without express permission from SLR Lounge and the artist.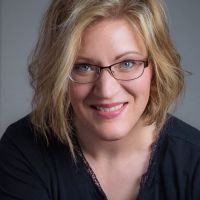 Tanya Goodall Smith
Tanya is the owner of WorkStory Branding Photography in Spokane, WA. Businesses hire her to create story-telling content that sells their high end products and services. She also teachings photographers her unique business model for making serious money as a corporate and personal branding photographer. Find her at
workstoryphotography.com
and
workstoryeducation.com