Welcome to Time Out with Tanya, where I've put my fast paced graphic design career on hold in favor of adventures in motherhood. I'm capturing every moment on camera, and you can come along if you'd like. Sign up for my weekly email here, so you'll never miss a Time Out.
I have a confession to make. When it comes to flash, I only own a couple of old Canon Speedlites. Someday, when I win the lottery, I'll buy the Profoto B2 250 Air TTL Location Kit, but for now, I'm keeping my flash kit mobile and inexpensive. Sometimes I wish I had some different modifiers to play with (I've been known to just tape a 3×5 white card to my 430EX to diffuse the flash and call it a day. Totally ghetto fabulous!) and I know you'll wish you had these, too. I got my hands on a few of these Speedlight flash modifiers at WPPI last month and would add any of these to my kit. See many of these modifiers in action in the SLR Lounge Lighting 101 Workshop Video.
Mag Mod

All of the products in the Mag Mod lineup are drool worthy. I've had my eye on them since their initial Kickstarter campaign back in the day.
The Lin & Jirsa and SLR Lounge Workshop crew use them, plus several of my wedding photography friends have ditched all their other flash modifiers for Mag Mod. The unique stackable magnetic design makes them incredibly fast and easy to install on your flash unit, plus they are lightweight and durable. Mag Mod is at the top of my wish list. Learn more about their newest flash modifiers here: MAGMOD ANNOUNCES TWO NEW AND EXCITING FLASH MODIFIERS | THE MAGSPHERE & MAGBOUNCE
fstoppers Flash Disc

The Fstoppers Flash Disc Portable Speedlight Softbox has a 12 inch diameter and fits most hot shoe mounted flash units. It has a silver lining to more effectively direct light. It comes with a handy carrying case, is inexpensive, lightweight and portable. See this guy in action in this article: UNDERSTANDING FLASH MODIFIERS | LIGHTING 101
Lastolite

I have the Lastolite Joe McNally Ezybox Softbox, and it works great, especially if I'm using my flash off-camera and able to hold it really close to my subject. I need an assistant for this or a light stand (a human light stand works better in this instance but costs more, LOL). This little softbox produces a soft light with a fairly large spread. Large enough to light a face. It folds up nicely and comes in a handy carrying case. It ends up being about the same size as a folded up reflector when in the case.
Flashbender

The ExpoImaging Rogue FlashBender looks like an interesting little modifier; just like the ghetto fabulous index card taped to my flash, only better. The advantages of this product over my piece of cardstock are that it's larger, and the unit can be bent to shape and direct the flash. No tape required. Pretty cool!
Westcott Apollo Orb

I also own the Westcott 43″ Apollo Orb and it's a fantastic, large, portable softbox. It's the one I take on location for headshots, photo booths, etc. It folds up just like an umbrella, so it's really easy to set up and take down. Plus, it barely takes up any room in storage. The silver interior and diffusion panel on the front allows you to create a lot of soft diffused light, even with just one little Speedlight. I also purchased the grid for this softbox, which you just velcro to the front, and it works great. This modifier is inexpensive and a great value, since this kit comes with a light stand and a shoe mount. I love it!
The only drawback is that you can't tilt it, so I cheat and just tilt the hot shoe mount and let some light leak out the bottom of the orb when I have the diffusion panel on the front. For the inexpensive price of this modifier, that little detail doesn't bother me. You could also use an assistant to hold your flash at an angle for you.
For over 9 hours of instruction on how to shape, control and modify on-camera flash, make sure you check out Lighting 101 Foundation, and Light Shaping. Do you have a favorite speed light modifier? Please share in the comments.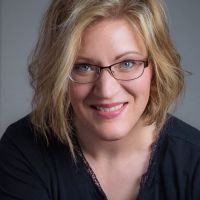 Tanya Goodall Smith
Tanya is the owner of WorkStory Branding Photography in Spokane, WA. Businesses hire her to create story-telling content that sells their high end products and services. She also teachings photographers her unique business model for making serious money as a corporate and personal branding photographer. Find her at
workstoryphotography.com
and
workstoryeducation.com