Welcome to Time Out with Tanya, where I've put my fast paced graphic design career on hold in favor of adventures in motherhood. I'm capturing every moment on camera, and you can come along if you'd like. Sign up for my weekly email here, so you'll never miss a Time Out.
A friend of mine recently lost her mother to cancer. Just a few days after her passing she lamented on Facebook that they couldn't find any photos of her mom. They just didn't exist. This really bothered me and got me to thinking, if I died tomorrow would my kids have a photo of me they would cherish? Would they have proof I existed and participated in their life?
As the mother of three children, and long before, actually, I've always been the one taking the photographs. I'm the photo documentarian at family events, birthday parties, trips to the zoo and even during everyday life. Usually, this is simply because I like to take the photos, so everyone else leaves it up to me. Other times, though, it's because I'm "too fat" or don't have my hair and make-up done or I don't trust whoever is taking the photos to create a flattering photo of me.
A couple years ago, I nearly lost my own mother to a seemingly untreatable infection after a surgery gone wrong. After that experience, all those excuses about why I chose not to exist in photographs didn't seem to matter anymore. I started to tell myself "So, you just had your third baby, and you've never been fatter, puffier or more sleep deprived. Get over it and get in the picture!"
You are valuable. You should be remembered. Your loved ones deserve to have a visual record of your face. In our modern world of endless selfies and crappy cell phone pics, I'm determined to leave a halfway decent visual legacy of my existence. Here are five creative ways to exist in photographs today (and most of them don't even cost money!)
1. Hire a Professional
Sue Bryce's #existinphotos campaign has been making the rounds on social media, encouraging women everywhere to treat themselves to a professional portrait session to document the different stages of their lives. After their wedding (if they even marry), most women never have a professional portrait taken of themselves, ever. Why not? Perhaps because having a photo taken is so ordinary, not to mention free, these days. Maybe we don't feel it's a necessity or priority. It's probably because of all the excuses I already mentioned above (too fat, ugly, etc.)
As a portrait photographer myself, I see the value in hiring someone to take my photo. I want a skilled artist to create a portrait for me. I want someone I can trust to show me in my best light and at my best angle. I could have a million snapshots taken of myself for free, but a portrait experience I paid a dear price for would be highly valued.
I had such an experience when I was expecting my third baby. I honestly have never been so large in my life and wasn't super excited about documenting that fact, but looking back I'm so glad I went and had my portrait taken. Aside from having the photos themselves, the experience of having a hair and make-up artist pamper me during a time I didn't really feel very pretty, was a nice boost. It was something to look forward to and a break from the stresses of my everyday. I'll most likely never be pregnant again, and I'm so glad I have those photos to look back on. I hope my kids will appreciate them in years to come.
If you've never hired a photographer who's work you love and admire to create a stunning portrait of you, I highly recommend it. Now, when I'm finished losing all that baby weight, it's on my bucket list to actually have Sue Bryce photograph me (seriously, Sue, I'm saving my money and literally working my butt off!) In the meantime, I'm probably going to have to go with one of the following more economical options for existing in photographs.
2. Ask a Family Member
I'm very active in the SLR Lounge Facebook community (if you haven't joined our group, come hang out with us. Click here to check it out) and noticed that one of our members, Catherine Lacey Dodd, frequently posts photos of her that were taken by her six-year-old son. This is something I've done on occasion, but they are usually on a whim and not really photos I would consider sharing.
Setting a scene, dialing in your settings and then asking a family member to click the shutter isn't a bad idea. I'm going to have to give this a try more often. As previously mentioned, I clearly have trust issues (therapy anyone?) but if it gets me in front of the camera, I suppose I'll try it. My Canon 5D Mark III with 24-70mm f/2.8L II lens weighs almost as much as each of my children, so I think I'll have to give them something lighter to use. Have you ever handed your gear over to a family member to take your picture? How did it turn out?
P.S.I love the glowing, warm look of Catherine's work. She edits her photos with the SLR Lounge Preset System. Click here to view more details.
3. Trade with a Friend
I'm guessing 50% of my friends are photographers. Many are very, very talented. Why not trade with one of them for family or personal portraiture? Trading can be a sensitive topic for many creatives, especially if they make their living as a photographer, so be careful who you ask to trade with you. I would stick to a close friend whose skill and availability match your own.
I recently traded family photo sessions with a friend, and it worked out great! We both have our family photos for the season, which we are each actually included in (yay!) and didn't have to spend a dime. You could trade for head shots, behind the scenes photos, even promotional video (hey, any Spokane photogs want to trade videography???? I'm in!)
4. Visit a Photo Booth
This sounds a little corny, but I love photo booths. For some reason, inhibitions cease to exist the moment you put two or more people in a private booth with an awful flash and automatic camera. When I was a kid, finding a photo booth was a rare treat. Now they're offered as free entertainment at events, and I say, take advantage! My husband hates to have his photo taken, so I love, love, love that I have these fun candid images of the two of us together. I'm going to go paste them in my scrapbook right now.
5. Create a Self-Portrait
Now, I'm not talking about a cell phone selfie via selfie stick here, although I have been known to take about 50 selfies before I get one that's at just the right angle to make me look skinny enough to post to Instagram. I mean really create a self-portrait. Think about how you want to portray yourself.
Do you want to remember how exhausted and awful you felt as a new mom? Why not document it? Your daughter might appreciate the realness of that image in 20 years. Do you want to celebrate a milestone? Show that in your self-portrait. Or maybe you just want to practice some new lighting techniques while shooting your own head shot. Try it! Do it! You could get really creative here.
Learn more about how you could use on-camera lighting to create a self-portrait in our Lighting 101 Foundation and Light Shaping Workshop DVD.
Conclusion
However you choose to exist in photos, I challenge you to do it more often and with more intention. Which of these ideas will you try today?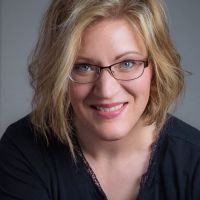 Tanya Goodall Smith
Tanya is the owner of WorkStory Branding Photography in Spokane, WA. Businesses hire her to create story-telling content that sells their high end products and services. She also teachings photographers her unique business model for making serious money as a corporate and personal branding photographer. Find her at
workstoryphotography.com
and
workstoryeducation.com