A lot of photographers start by taking photos of landscape, just because it's beautiful and always there. A landscape won't run away from you, an animal will. Landscapes aren't as intimidating as people. Landscape photography is how I started, and for anyone looking to improve their landscape images, here are a few things I've learned that helped me improve in my landscape photography.

Tip #1- Shoot in RAW and Manual
As I pointed out in the introduction, a landscape doesn't run away from you so there's absolutely no need to let the camera decide your exposure. I like to activate live view and tweak the exposure until I see a properly exposed image on the back of the camera. (Note: it's not only important that your image is exposed well, it is even more important how your exposure is being composed. Shutter speed, ISO and aperture doesn't only affect how bright an image is, they affect the amount of noise, the depth of field and the motion blur, too. If you want to learn more about that, we have great basics tutorials covering exposure here and here).
Also, you should be shooting in RAW because your camera will save a lot more information that you can use in post processing to get a larger dynamic range or restore information specifically from shadows and highlights. In landscape photography, you want to try to capture the highest amount of data.
HDR can look absolutely stunning when done right. If you want to learn how to extend your dynamic range while still maintaining a natural look and feel you can check out SLR Lounge's 13-hour HDR Workshop DVD that will teach you everything you need to know.
Tip #2 Slow Down
It's perfectly fine to shoot a lot of images, but don't just "spray and pray!" Take your time, think about composition, exposure and visualize what you want your final image to look like. Also, if you shoot a lot of frames, then shoot a lot of frames from different angles or objects. Don't just take the same photo a dozen times.
Tip #3 Show a Non-Photographer Friend Your Best Images
This is actually a tip that applies to every kind of photography: print some of your best photos and show them to a good (honest) friend. Because you are obviously pretty close to your pictures, (you took them), you can't judge them as good as someone else could. Also you could make the mistake of focusing too much on the technical aspects of your image. Your friend who does't know anything about the technical stuff probably won't make that mistake.
Tip #4 Know Your Gear
Know your gear. And I don't mean own the best gear. I just mean learn what your equipment is capable of doing and what it isn't. Figure out the limitations of your gear and try to find workarounds for avoiding them.
Here's my list of gear:
Nikon D800 body
Nikon 24-70mm f/2.8
Nikon 50mm f/1.8
a few Yongnuo 560 Mark III flashes (probably not that useful for landscapes)
a few softboxes
lightstands
Cable release
Lowepro bag
Tip #5 Include an Interesting Foreground
Many beginners make the mistake of just taking a landscape image without a foreground. Implementing one will give your photo more depth and make it more interesting. You should avoid scattered, busy backgrounds because they will distract your whole image.
Do you have other landscape tips for beginners to add? Feel free to leave you thoughts in the comments below.
All photographs by Paul Faecks are copyrighted and have been used with permission for SLR Lounge. Do not copy, modify or re-post this article or images without express permission from SLR Lounge and the artist.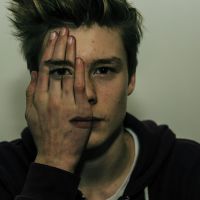 Paul Faecks
Paul Faecks is a portrait- and fine art photographer, based in Berlin. If you want to check out his latest work, you can do so by following him on
Instagram
or by liking his
Facebook Page