Hemingway, had two core principles in his creative process: i) End the work day with something left to write, even mid-sentence. ii) Release your mind from whatever it is utterly and completely and then wake up and fully apply to it. It's perhaps one of the most significant pieces of information I've ever come across, and has become intrinsic to many high-performing creatives. It's just incredible how a single piece of information can re-frame a way of thinking, and behaving.
This kind of information can come from anywhere, and while it carries an inherent value, it carries more weight depending on who said it. It's the leaders and the proven who typically earn the information for themselves, and the rest of us wait with baited breath to hear, accept, and apply their wisdom when they choose to share it. And while 'genius' is so often used with hyperbole, it's hard to deny that the people attached to the 30 Days of Genius are anything but the tip of the spear, and few are better suited to deliver transformative information.
Chase Jarvis and CreativeLive have brought together 30 of some of the most notable creatives on the planet; people like Sir Richard Branson, Tim Ferriss, Jared Leto, and Gary Vaynerchuk, to name a few.
These may be names typically unassociated with 'creative' but as noted by CL, it's a misconception that artists have a monopoly on creativity, when in fact the act of making something – a photo, a product, or even thinking critically, is a creative endeavor. By that thinking, these are world-class creatives in the pure, and, "use their creative impulse as both fuel and compass."
If you were to ask a question on how to do something, you'll get an answer of some sort, but the answers are so infrequently binary, and what you should really seek is the 'Y' behind the 'Q' – that's really the essential information, and probably why it's so infrequently revealed.
It's also precisely what you'll get with 30 Days of Genius. Much of it is the kind of immediately actionable soundbite you can shoot back like a shot of tequila, and each video will swivel the Rubik's cube of your day. And while you could view just one, each exposes you to the kind of information from the kind of minds that you'll keep them playing, totally engrossed, as the hours while away, the tea goes cold, and the cat catches the goldfish. It's just a brilliant series.
CreativeLive and Chase Jarvis are always bringing the best of education and this is just a reflection of that. You can sign up for 30 Days Of Genius here, it's totally free, and not to be missed.
Here are some of the names associated with it:
CreativeLive is having a massive site-wide sale at the moment that's 30% off any course, so there's hardly been a better time to check it out.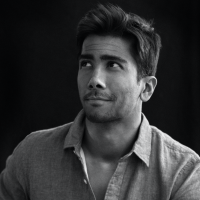 Kishore Sawh
A photographer and writer based in Miami, he can often be found at dog parks, and airports in London and Toronto. He is also a tremendous fan of flossing and the happiest guy around when the company's good.