No doubt many of you know Brady Puryear as a top wedding photographer; he's a Fearless Photographers award winner and is also regularly featured on HuffPost Weddings; in addition, he has been published on BuzzFeed, Green Wedding Shoes, Ruffled,  and Wedding Chicks. But you may not know that he's also as an inspiring entrepreneur. In fact, not only is he a wedding photographer, but he's also the owner of a wedding album company, Blacksmith Albums, and his new venture, The Daily Wedding.
So when we got a chance at WPPI (2016) to sit down and chat for an extended period of time (sorry for keeping you up, Tim King), we asked him two questions: How does a pro-am skateboarder (who got third at the Vans Triple Crown when he was 16, btw) become a wedding photographer? And 2: How do you manage to run a wedding photography business, a wedding album company, and a popular wedding website without going insane?
The Back Story
Even though Brady can still shred (and here's the proof: Brady Shredding in 2015), after shattering his left arm in 15 places and being in a cast for 10 months, he was laid up for a bit (to say the least). And while he was on the mend, his friend gave him a copy of Photoshop so he started doing graphic design. At some point, he got hired by a wedding photographer at his church to do some business cards and that guy got him thinking about photography because he told Brady that he'd have way more fun shooting a wedding than sitting behind his computer all day.
For Brady, being a wedding photographer was not in his plans because "[he] was a skateboarder and that sounded horrible." So he started shooting with some of his buddies: bands, concerts, album covers, etc. One thing led to another, however, and he ended up shooting with that guy from his church (mostly because the bands he shot didn't show up on time let alone have any cash). It turned out that, for Brady, wedding photography was more fun. And by the time he started shooting his own weddings in 2008, he'd already second shot for seventy.
So that's how a more than decent skateboarder became a legit wedding photographer, but here's the meat of our discussion: how in the heck Brady juggles his businesses with his personal life and what he thinks about being an entrepreneur. Here are his three tips . . .
Tip #1: Assemble a Great Team
You need to "run [your business] like a business and not a freelancer because businesses have employees," says Brady. That said, Brady definitely believes you can be a wedding photographer and shoot forty weddings a year and have enough time to spend with your family, take a vacation now and then, etc.; it's just that it requires the assembling of a team: a studio manager, someone to do your post-processing, etc. And this philosophy is how Brady is able to juggle three businesses at the same time.
He's able to shoot twenty weddings a year, run an album company, and run a popular wedding blog because he doesn't assemble every album himself and doesn't run the blog alone. He has a shop team that assembles his albums, and he has a web developer and editor who help him run The Daily Wedding.
Tip #2: Get a Vision
According to Brady, you need a vision for your business. For example, The Daily Wedding's mission is "inspiration for your wedding and encouragement for your marriage." And no matter the size or type of your business, you need to structure your goals around your vision.
Brady realized, for example, that there was a need "to educate brides on the things they should be thinking about when it comes to marriages as opposed to just thinking about things when it comes to planning a wedding." And that is The Daily Wedding's goal: to be a resource that meshes the marriage encouragement industry with the wedding industry. He figured, "the brides are coming to blogs anyway, and we're trying to get them to not leave a wedding blog and then go somewhere else for pre-marriage resources."
Tip #3: Be Optimistic & Have Patience
When Brady first started doing wedding photography, he lived in his car. And over the next five years, he built his business (while taking no income in the first three years). His entrepreneurial  spirit has its roots in patiently growing his wedding photography business by focusing on the business side of things (networking, his website, etc.). And according to Brady, it also helps that "[he's] blindly optimistic." He's never concerned that rival companies make more money. He takes solace in the unique visions that he establishes, and he goes for it. Optimistically. Patiently. Passionately.
Conclusion
When Brady gets the chance to talk to other entrepreneurs, he always asks them about their biggest failure and what propelled them forward. That's good thinking and something that we can always contemplate in our own lives (personal and business).
So how have you failed? And what took you to the next level? Join the conversation by leaving a comment below and/or heading over to our ever-growing Facebook community group.
You can learn more about Brady's newest project, The Daily Wedding: here. It's a great resource for wedding photographers because it's packed with lots of good information for brides: both marriage resources and wedding inspiration. You can also become a preferred vendor for The Daily Wedding for a nominal fee and submit your weddings (they post 365 weddings/year).
Photographs by Brady Puryear are copyrighted and have been used with permission for SLR Lounge. Do not copy, modify, or re-post this article or images without express permission from SLR Lounge and the artist.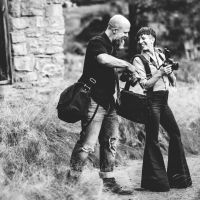 Amii & Andy Kauth
Amii & Andy are a wife and husband team of rad portrait and wedding photographers (Sunshine & Reign Photography) who absolutely love life and are generally just stoked! Yeah! When they aren't photographing or writing and teaching about photography, you'll find them off on a seriously legit adventure with their little ones, lifting weights in their garage, training jiu-jitsu, refining their archery skills, or surfing every chance they get. And on the rare chance they escape off on a "date night"? Yep! They'll find a wedding to crash (true fact). Website:
Sunshine & Reign Photography
Instagram:
@sunshineandreign