There is nothing more refreshing than being able to sit and observe photographers owning their craft. Education will always be the single most-needed attribute to further your photography art and technique, yet most of us are so eager to be hands on that we often forget the importance that learning possesses.
We had the fortunate opportunity to be invited to a workshop hosted by Hasselblad and Broncolor with pro photographer Andy Batt, known for his commercial work and inspiring book Camera & Craft, a photography manual aimed at the inspired amateur. From the beginning Andy reassured us that he was willing to stay past the 5 hours advertised to teach us and answer any questions we had, to let us really see how these tools can perform for us if we learn how to utilize them properly.
1. The Manual is literally your guide
All of us toss aside our manuals at the mere sight of getting new gear, after all, how can one resist shiny new things? But Andy's first major point regarding the Broncolor Siros L strobes was to really take the time to understand its capabilities so that you can push it to its limit. He has even created his own abridged version of the manual to ease you into the process. During the workshop we walked through the entire set-up of both the Broncolor Siros L and Scoro S Power Pack and were shown how simple it was to alter power and other creative controls through the BronControl app.
With its intuitive software, the app is designed to minimize the manual adjustment of strobes with a simple click of a button, and is programmed to use the built-in Wi-Fi network to create a grouping that keeps the strobes interconnected. Seeing it being used live was remarkable, it really extends the functionality and portability of Broncolor strobes.
2. story, tone, & mood
Andy dived into his lecture with the idea of using lighting as a storytelling device, thinking more along the lines of a filmmaker or cinematographer by letting the story dictate the type of lighting used. He stressed the importance of non-formulaic lighting, a tactic most of us have to fight since we are sometimes limited in time and are forced to resort to what we know instead of creating something from scratch. For those working on commercial gigs or studio sets, this is a crucial element to consider when initially placing your lights, and Andy suggests to sketch out your scene with "motivated light" to emulate the existing light and to get a rough draft of your vision prior to executing.
We took a break from in-studio white cyc wall to venture outside of Edge Grip Studios and see the Siros' performance power. Using the HS mode feature, Andy was able to push the flashes to overpower the ambient light at 1/8000th of a second which opens up a realm of possibilities for flash photography in broad daylight.
3. observe light
You've probably already heard this bit of advice, but it's worth hearing again and again because of its value. Never stop observing light – the direction, the quality, the source, the color; its characteristics will always be different and it is up to you to analyze it so it can be easier to replicate it. Andy stressed the importance of leaving the mystery of the source to the viewer, having them guess how you lit a shot by strategically placing your lights in a creative and complex manner, even if you are just adding and matching the existing light.
Photography is always going to be about experimentation, dictated by the grueling process of trial & error, but there is no greater feeling of satisfaction than arriving at a desired final image after hours of fine-tuning and precision thinking.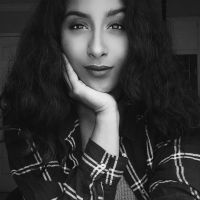 Shivani Reddy
Shivani wants to live in a world where laughter is the cure to pretty much everything. Since she can't claim "Serial Bingewatcher" as an occupation, she'll settle for wedding/portrait photographer at Lin and Jirsa & marketing coordinator here at SLR Lounge. For those rare moments when you won't find a camera in her hand, she will be dancing, eating a donut, or most likely watching Seinfeld. Follow her on Instagram:
@shivalry_inc