One of the most common questions that aspiring photographers ask is how to keep feeding the creative spark and where to look for inspiration. Inspiration and creativity are often found in tandem with each other as if riding on a bicycle. A common antidote when either is in short supply is collaborating with a new creative team and create for the sake of creating.
YouTuber Jessica Kobeissi took inspiration from watching a video of six photographers capturing the same man and has collaborated with other photographers for the series. Jessica has risen in ranks as of late and judging by this last year's video playlist it is easy to see why. The videos are fun, informative and inspiring to watch known photographers capture the same scenario and make it into something entirely their own. Not to mention she has the video length down to a science.
Gear Used:
Brandon: 
Nikon D750 + Nikkor 50mm 1.4 + Nikkor 105mm 1.4
Dani: 
Jessica:
Canon 5D Mark III + Canon 24-70mm 2.8
In this latest episode Jessica, Dani Diamond and Brandon Woelfel take the challenge up a notch by randomly drawing obstacles that were submitted by the viewers. Today's challenges were not being able to look through the camera's viewfinder, not being able to edit the photo, and shoot everything with an iPhone.
Watching each photographer react and adapt to the scenario was very entertaining and the images captured with the iPhone are more indicators that smart phones will continue to be a force in the industry. It was also very apparent that they were so accustomed to their gear that it was an extension of themselves.
Even with the massive amounts of camera lenses at one's disposal, many photographers have their favorite 1-2 lenses that are affixed to their camera the majority of the time and this is evidenced throughout the video series. In this second video Jessica discusses her love for the 50mm as a portrait lens and why she has been trying out another for size.
The focal length of the 24-70 is a fantastic lens for fashion and test shoots when time is a limited resource. The wide angle allows for full body compositions and the interesting angles that are seen donning the pages of many magazines. The longer focal length allows the user to zoom in for a tighter crop without having to recompose the image or change the vantage point.
Primes are incredible lenses for these types of shoots and they also give one heck of a workout. For this reason, a solid prime of one's choosing and a zoom such as the 24-70 make for a winning combination as they are two great and versatile lenses to tackle the demands of fashion and test shoot inspired photography.
If you haven't had a chance to check out Jessica Kobeissi's channel and would like to see more, click here to subscribe.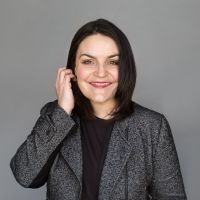 Brittany Smith
Brittany is a fashion and beauty photographer who works between NYC, Montana and LA. She photographs the way she has always wanted to feel and believes in the power of raw simplicity. When not behind a camera she can usually be found at a local coffeeshop, teaching fitness classes at the YMCA, or baking something fabulous in the kitchen. Instagram: @brittanysmithphoto