Wedding photography is filled with emotional, fun, heartwarming moments to capture. There is such beauty in the candid reactions and pure bliss that people experience on their wedding day. It's this authenticity that makes it such an exciting genre of photography rich with depth and challenges. Among the most emotional parts of a wedding day is the first look. This is a moment where the soon-to-be-married couple sees each other for the first time on their wedding day prior to the wedding ceremony. Here are some of our favorite first look wedding pictures to inspire you!
First Look Wedding Pictures with Couple
Rewind: How to Master the Bride & Groom First Look
First Look Wedding Pictures with Family and Friends
The concept of the first look wedding pictures is most commonly associated with the wedding couple. However, these "first look" moments are happening throughout the wedding day. Whether it's the father seeing his daughter for the first time or the bridesmaids seeing the bride walk into the room with every detail of her hair, makeup, and wardrobe put together. Here are a few of our favorite first looks between the bride and her closest family and friends.
Fun First Look Photos
Remember to have fun with your first look photos. We've seen brides put on fake crooked teeth and even full-on dinosaur costumes.
In the images below, the groom's brother played a prank on the groom and dressed up as a bride.
We hope you enjoyed these examples of first look wedding pictures from our talented community members! This moment is likely to be one of the most emotional highlights from a wedding day and one that every couple will cherish fondly. For more guidance on how to photograph a first look or what key moments to capture on a wedding day make sure you check out our Wedding Photography course in SLR Lounge Premium.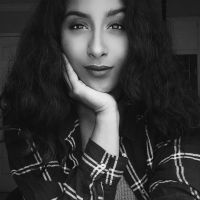 Shivani Reddy
Shivani wants to live in a world where laughter is the cure to pretty much everything. Since she can't claim "Serial Bingewatcher" as an occupation, she'll settle for wedding/portrait photographer at Lin and Jirsa & marketing coordinator here at SLR Lounge. For those rare moments when you won't find a camera in her hand, she will be dancing, eating a donut, or most likely watching Seinfeld. Follow her on Instagram:
@shivalry_inc