The list of skills that a photographer must now possess continues to grow by the month and knowing how to style a shoot is now part of the job description.  It is our duty to stay on top of what is in fashion and adapting it accordingly.
New York City just wrapped up the remainder of its 2018 fall/winter fashion week into a perfectly coiffed package and set the jewel tones for what is to come. This year paid tribute to the past as well as the future, and the interpretation was left up to the imaginations of the designers.
From Matrix styling proportions, the return of the 80's power suit, color blocking that would make the Fresh Prince of Bel Air feel fresh again and nods dating back to the Renaissance, there are some fantastic trends that are sure to inspire fashion, modern glamour and portrait photographers alike. Here are some of the standouts.
Unapologetically Feminine.
Romance is not dead, or at least the time period we romanticized isn't dead. This was a dominant thread woven into many of the collections throughout fashion week and is sure to be a favorite among both clients and photographers. Victorian-era silhouettes, equestrienne inspired style and a slight nod to the Wild West make for a fiercely feminine heroine. The delicate fabrics and prints in colors that deck the halls of European palaces create an utterly beautiful, romantic and unapologetic feminine look.
The 80's meets The Hunger Games.
It seems that the designers who brought us the Capitol were ahead of the game. Bright and bold colors are making a splash in a season that is typically reserved for the more understated colors we have come to know as autumn. Magentas, electric blues, yellows and reds are showing up in animal prints galore, faux fur prints, stockings and color-blocked together. This retro throwback makes an elemental mark that translates in both the past and the future.
Red Pill or Blue Pill?
Some of the upcoming trends are a future nod to powerful women while simultaneously making us question if perhaps we've been living in The Matrix all along. Alexander Wang's newest collection drives this point home with the sharp lines, vibrant colors, shiny fabrics and futuristic zippered elements.
Oversized. 
Oversized coats galore and oversized patterns like that of Tory Burch in flowing frocks are redefining the modern day woman's silhouette. Ranging in a multitude of fabrics and colors, these statement pieces can be layered or artistically accessorized and easily add a feeling of romance.
So. Much. Plaid.
Fans of the show Outlander will rejoice to see the resurgence of tartans and it is no longer limited to the traditional red, green or blue. The pattern is making an appearance everywhere in a rainbow of colors, and, the more they can be paired together the better.
Suit Up.
There has been a resurgence in the women's power suit and today's designers have made them with transition in mind. Skirts and pants paired with blouses and blazers in patterns are no longer confined to the office. Power suits transition into an outfit made for going out when paired with the right accessories and a slight refresh of hair and makeup.
Little Black Dress.
Satin, lace, velvet and tulle photograph incredibly beautifully and have the ability to transcend time. Its simplicity can transpire when combined with other elements such as the way Oscar de La Renta combined its chic factor with Elizabethan style floral artwork and created a masterpiece. The LBD has always been and will forever be a staple.
Accessorize.
The proper accessories catapult an otherwise ordinary look into something phenomenal. The upcoming fall and winter seasons are showcasing large statement earrings that dangle down to the collar-bone. Belts and corsets are being used to accessorize the Victorianesque prints and define the hourglass silhouette. In stark contrast, leggings bold colors are being used as an accent to the oversized outerwear.
Colorful. Exaggerated. Timeless. Trends come, they go and they seem to come full circle, and the fall/winter 2018 year is indicative of just that. Modern and vintage are two very separate terms that are now used interchangeably when it comes to fashion. The defining element, it would seem, is knowing how to accessorize these items in a way that translates to today and makes a bold statement.
It is really fun to see the designer's definition of the modern day woman and how their interpretation is woven throughout their collection, inspiring looks that are strong and others that are delicately feminine. Which trends are you most excited about?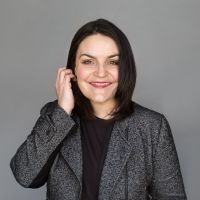 Brittany Smith
Brittany is a fashion and beauty photographer who works between NYC, Montana and LA. She photographs the way she has always wanted to feel and believes in the power of raw simplicity. When not behind a camera she can usually be found at a local coffeeshop, teaching fitness classes at the YMCA, or baking something fabulous in the kitchen. Instagram: @brittanysmithphoto