With ever-changing rules and regulations, and an often complicated algorithm, Facebook can be an intimidating platform to manage, but when its advanced business features are used correctly, Facebook is one of the best tools for you to use as a photographer.
Enter  Ben Hartley
We love providing helpful resources that photographers can use to grow their business and advance their skills. With the constant changes and updates that happen with Facebook, we know it can be challenging to know how to maximize your reach (without spending hours trying to do so!). Not to mention, it's easy to question the effectiveness of Facebook with all of the other social media platforms that are popular today. However, done right, Facebook is a great place to connect with your target audience. Ben has used a strategy to grow his Facebook page by 7%… in 12 minutes, and the best part is it can be repeated every single day. But first, let's take a look at some amazing Facebook stats (courtesy of DMR and Zephoria Inc.) to get you excited about your own page:
As of July 2016, there are over 1.13 billion (and counting!) daily active users
Users on Facebook spend 20+ minutes on the network per day
In the U.S. and Canada alone, there are over 167 million users
42% of marketers report Facebook is necessary for their business
As of November 2015, there are over 8 billion video views daily
34% of Facebook users are between the ages of 18-29
With a look at the graph below, there is a clear spike in Page Likes, which was the result of the strategy we'll discuss.
In the image above it's easy to see the clear spike in page Likes and its attributed to the strategy at hand.  It's actually really simple. Ben invited people who have already interacted with his brand, but have not committed with a 'Page Like'.
Here are 3 steps you can take to use the same process, and increase the likes for your wedding photography business page on Facebook.
1. Start with One Post
While on your Facebook page, look at a recent post. On the left of your post, it will say, "X others like this." Click on that button to view a lightbox that shows all of the people who have liked the post. This will include Likes from current fans and non-fans.
2. Sign into Your Personal Page
Make sure you are signed into your personal page (NOT your business page) during this process. With your personal page you will see you have the option to invite non-fans to Like your page.
3. Click "Invite" for Non-Fans
For any non-fans on the list, invite them, but you will notice that Facebook may give you a limit on how many people you can invite per day. In your schedule, carve out time to spend on Facebook Likes to increase your fans and expand your reach.
Now it's just a matter of repeating this process for all of your posts. Keep in mind that not everyone will become a fan of your Facebook business page, but you will receive a significant boost in Likes for your page. It will also help to increase awareness of your services and place you in front of potential clients. Take the time to try out this technique and see how many new followers you get.
Facebook Live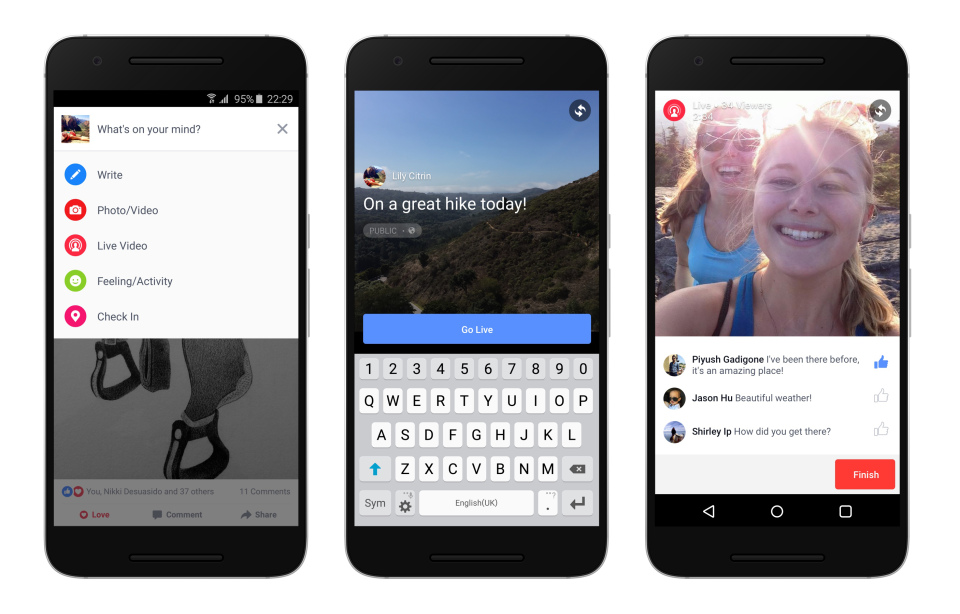 Another important aspect of using Facebook as a photography business owner is taking advantage of live video. Although Facebook is still testing, changing, and growing the platform, live video is a powerful tool for you to use. Facebook gives priority to video (that has been uploaded directly to Facebook, not just links from YouTube or Vimeo) in your newsfeed, and when that content is LIVE it gets ranked even higher.
With live content being so spontaneous and in-the-moment, Facebook says people will spend triple the amount of time watching live content vs. pre-recorded. Furthermore, there is an excitement that accompanies live content that allows your followers to be a part of it, and because of this, comments skyrocket to 10X what they normally are on standard video.
So you can leverage live video on Facebook, here are a few practical tips Ben recommends for you to use.
Utilize Sneak Peeks
Most photographers come back from a shoot and post at least one 'Sneak Peek' image after a session to Facebook. It gets everyone excited, encourages great engagement, and brings followers back to your brand. To take advantage of the viewership video brings, reveal your next Sneak Peek photo using Facebook Live! Rather than just posting an image, document a live video to announce it.
When you use live video to share the Sneak Peek, it allows you to share the story behind the photo, and interact with your followers at the same time. Tell people more about the subject, their relationship to each other, or to you; What was the day like leading up to this moment? Were there any unique challenges you overcame? The list goes on and on. When you start combining your stunning imagery with storytelling through video and the candid, genuine excitement of live content, you now have a triple threat most photographers just aren't leveraging.
"In five years, Facebook will be probably all video." – Nicola Mendelssohn, Facebook's Vice President of European, Middle Eastern, and African Operations
Stay in the Moment
When you use live video on Facebook, stay in the moment. Try to avoid getting caught up in producing a video with perfect lighting, high-end technology, and amazing studio design. Remain in the moment, where you can showcase your candid and genuine emotions and personality. This is the real benefit of live content. As a quick tip, use earbuds (with the built-in microphone) to give your audio a small boost.
Facebook should be a staple in your marketing strategy, so it is important to understand exactly how to stay on top of the best tools and techniques. Continue to use the techniques you learn in your strategy for Facebook, so you can maximize your reach and meet clients who are perfect for your wedding photography business!
Alice Houstons
Photography has been a part of Alice Houston's life for over a decade now. Here at SLR Lounge, she prides herself on being a wealth of knowledge in the latest photography news and tech. Always searching and a self-described "Digital Nomad," she loves learning about those unique stories that inspire photographers around the world!