Long ago, I would be one of the first to dismiss the use of Photoshop, not because of some Philistine mentality that a photo should be unaltered, but rather I didn't understand it, how to use it, and to some extent, it just didn't seem as useful as it is now. Nevermind that I was shooting in film till not too long ago. When it came to anything other than point and shoots in terms of digital, I wasn't an early adopter. I was still dodging and burning the old school way, with a cotton swab and any manner of other things inside a dark room.
Photoshop has come a long way, and the current evolution has a host of features I truly adore. I get asked frequently about how to do this and that, and make a certain photo look a certain way. I think it's best to tell you what features I really like, then one can learn how to use them. In the process of learning, and the application of the feature, it becomes apparent how else and where else the methodology can be applied.
[REWIND: How To Add A Realistic Tattoo To a Person With Photoshop]
Currently, in the latest version of Photoshop CC, there are a number of features I'm loving. Some of them are available on previous versions and some, sadly, not. Here are my first two which should be available to most:
Selective Blurring Via Field Blur
As I've mentioned on more that one occasion on here, I generally dislike the use of faux defocused areas and faux bokeh. It's just not a look I tend to like, and I'm not all about shallow depth of field. However, I'm sure we all can recognize the artistic component and license in photography and these features can be used to good effect. The Field Blur option in Photoshop is actually quite impressive. It lets you choose points, as many as you like, to defocus. It also lets you choose to what degree those areas are defocused.
It's rather simple to use, and if you have an technical understanding of defocused areas and bokeh, you can render realistic results. In order to do this you will be playing around with the level of each point, and understand that when the first point is plotted, the entire image will be defocused. You have to then drop points where you want to lessen or remove that defocus, and then you adjust accordingly.
In the example below, I took a shot outside of a usual haunt of mine and felt it was a good candidate for an example. The photo itself was shot on an Fuji X-E2 at over 2000 ISO and at 1.4, but I think a little more defocus in the far background would be a nice touch to tone down the bokeh lights also. Here's an example of the effect. Warning, it IS subtle, as that's how I operate. If you want more of an effect, it is simple to do.
Camera Raw Filter
I've done a whole segment on this before, however it remains possibly my favorite photoshop filter tool. We know it's essentially the same engine that powers Lightroom's adjustments, but having them in Photoshop where it can be applied at will, over and over again, is lovely.
In this example, we take a crop of a shot I took this weekend and all I want to do is bring out the highlights from the shadows a bit, and I can think of no better tool to use that that of Camera Raw. It is what I tend to go back to for most of my primary edits.
You can see the result here after I upped the shadows, and then added a layer mask so I could target to only show the new highlights in the hair, hip, and slight side of the leg, to give more depth. It took all of about one minute.
If you like this, and would like to become quickly adept at Photoshop, I might suggest having a look around our site as we generally post tutorials like this often. And to have a look at the Phlearn Photoshop 101 & 102 as they are comprehensive and will have you doing things with Photoshop you may have otherwise thought too complex, or didn't even know you could do.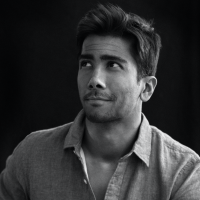 Kishore Sawh
A photographer and writer based in Miami, he can often be found at dog parks, and airports in London and Toronto. He is also a tremendous fan of flossing and the happiest guy around when the company's good.