As I write this there are a few cameras sitting by my feet; offerings from Nikon, Sony, and Fuji, all waiting to be used and tested. I don't know the name of whomever made them since it would be a machine, nor where they were made since it was probably in some jungle clearing that was most cost effective for a company entirely managed from the perspective of its profit and loss accounts.
I don't mind this all that much, as a camera is a tool, and by all marks these tools are damn fine pieces of engineering. But they will be forgotten in the annals of history probably only a short few years from now; they are not individual; they are not personal; they are not Leicas. Leica turns 100 years old this year, and in typical Leica fashion, is doing so with elan.
Leica Anniversary Events & Gear
2014 marks a double anniversary for Leica Camera AG as it's been a century since the first Leica model was created, and 90 years since Ernst Leitz began production of the camera with a lens by Max Berek. Throughout the year, Leica will mark its centurion anniversary with special events and releases, most notably the grand opening of the new Leica complex in Leitz Park in Wetzlar, WestLicht. Guests will attend what Leica calls the 'Auction Of The Century' where they will bid on 100 historic and rare Leica items. This all goes down today. One item in particular has been shrouded in some mystery and now revealed.
Leica has on offer 101 examples of a special boxed set that, frankly, leaves me weak in the knees. Included is the pure and mechanical Leica M-A film camera based on the Leica MP, the contemporary incarnation Leica M Monochrome digital, and 3 Summilux lenses; 35mm, 50mm, and the new 28mm Summilux-M f/1.4. All specially engraved, each set is offered in a black anodized aluminum case, and all for about 30k USD.
But Leica has more on tap in you're interested in cratering your bank account such as a Leica S 'Edition 100' which sees the medium-format SLR styled camera paired with two of its popular lenses, and special Miltuwheel Trolley by Rimowa. Then there's the D-Lux 6 'Edition 100' again with special engraving and special styling limited to 5000 examples globally.
The Leica Chronograph
But Leica's been up to a bit more than that. Very uniquely, Leica has allied with Valbray, Swiss watch makers hailing from Lausanne, to create the EL1 Chronograph and limited to…you guessed it, 100 gorgeous examples.
It's entirely attractive in its geeky sort of way as the distinguishing feature is the shutter system that acts like a cover for the face, which looks like the aperture blades of a camera. The 16 blades can be opened and closed by turning the bezel, and to reveal or hide the chronograph and stopwatch function of the watch. Expect that to set you back about 25k USD. A trifle, if you're accustomed to relentless luxury and your bank balance is bigger than your account number.
Source: Leica.com & Leica Rumors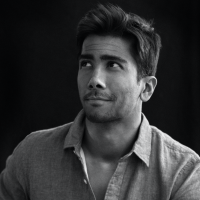 Kishore Sawh
A photographer and writer based in Miami, he can often be found at dog parks, and airports in London and Toronto. He is also a tremendous fan of flossing and the happiest guy around when the company's good.