Welcome to Time Out with Tanya, where I've put my fast paced graphic design career on hold in favor of adventures in motherhood. I'm capturing every moment on camera and you can come along, if you'd like. Sign up for my weekly email here so you'll never miss a Time Out.
As I visit photographer websites and blogs when considering them for an interview here at SLR Lounge, I'm often appalled by what I see. I can count on one hand how many times I've genuinely been impressed by a photographer's blog. Now, let me say this with the disclaimer that my own blog has many of the same mistakes. Aren't we all a little like the mechanic who never has a working car? We want to have our own family photos organized and our website looking up-to-date, but time restraints often make us push those things to the end of the to-do list. If you're one of those photogs, I get it. You're busy.
If you want to improve your website, and just aren't sure what needs to be done, here are my Top 10 Ways to Improve Your Photography Blog, based on what I've been seeing as I browse the world wide web of photography websites…
1. Don't Make Me Think

The biggest mistake I see in websites in general, are complicated designs or poor choice of design elements (colors and fonts that hurt my eyes, too many photos, too much going on, ads all over the page, etc.) and confusing navigation. If a potential or current client visits your website and can't find the information they need within a couple seconds, trust me, they are going to click away from your site and find a more user friendly one to visit. Don't even get me started on pop-up windows. Please, oh, please don't use them! Pop-ups lead me to item #2… P.S. If you're wanting do dive deeper into what makes a good user experience online, I highly recommend you read Don't Make Me Think, by Steve Krug.)
If you're looking for a way to add texture and interest to your website without distracting from your beautiful images, consider using a texture in the background from our Photoshop Texture Collection. For the price of a single stock photo elsewhere, you get over 230 handmade, custom textures for (only $29) and you can use them to add color, tone and texture to your images, too. I love them!
2. Make it Mobile

The Google Analytics of my own site tell me that about 35% of those visiting my website are doing so from a mobile device or tablet. And those numbers are climbing. 36% of those people are using an Apple iPhone. 31% are using an Apple iPad. Was your site designed with mobility in mind? How is the user experience when viewing from a phone? Does the site take forever to load? Does an annoying pop-up window asking for their email address impede their ability to view the actual site? Can they easily navigate to the information they need? If not, it's time for a re-design!
3. Only Show Your Best

Here's where a lot of newbies fall short in the website category. I've struggled with this myself because I still haven't figured out what I want to specialize in (I honestly think writing is my thing and it took a year of doing it at SLR Lounge to figure that out!). The most successful photographers pick a niche and only show images from that niche on their website. Weddings, newborns, corporate, kids, product, food, glamour… Which is it going to be? The photographer who specializes in everything really is telling the world they specialize in nothing. Only show your best, and only show the kind of work you want to do.
4. Don't Write a Novel About Yourself
One of the most annoying things about visiting a photographer's website (from a journalists point of view, at least) is having to wade through a 3 page, totally irrelevant "About" page. I'm sure potential clients feel the same way! Nobody cares about your favorite flavor of ice cream or whether or not you like long walks on the beach or that you shoot with a Canon 5D Mark III and 70-200mm L series lens exclusively. I promise you, your clients don't care about the brand of your gear. They care about whether or not you will do a good job for them. Why should they hire you? What makes you so special as a photographer? In a follow-up article, I'll include some tips for writing an effective and non-annoying bio. Stay tuned!
5. To Blog or not to Blog?

As a photographer, do you really need a blog? If you blog as a means to book more clients, I say go for it. But only if you do it well. For tips on using your blog to book clients, check out my past article 5 BLOGGING STRATEGIES FOR BOOKING MORE PHOTOGRAPHY CLIENTS. When I'm consistently blogging, I get more inquiries. The most effective blogs stick to one or two topics. Just like your portfolio, you should stick to blogging about whatever kind of business you want to bring in. But don't just post sales and petitions to buy from you. Post behind the scenes shots, little tidbits about what makes you a unique photographer, your joy moments while working.
6. SEO is KEY

One good reason to have blog is that it can boost your SEO. If you don't even know what SEO stands for, stop reading this article right now and start learning all you can about it. There are plenty of books about SEO and probably a lot of free advice online. One book I found helpful was Social Media Marketing for Digital Photographers by Lawrence Chan. I know I've mentioned it several times in past articles, but I can't help it. It is that good. It's an easy read and full of humor, which I like, especially since a subject like marketing and SEO can be so dull.
7. Spell Check
No explanation needed here. Just double check and make sure you don't have any spelling and grammatical errors. Just do it! You might think a few typos won't hurt, but think about what those mistakes say about you as a photographer. Are you someone who misses small details? Are you sloppy in your work? I'll actually cover this more in-depth on Monday in my follow-up article…
8. Do Show Some Pricing Info

Whether or not to show pricing information on your website has been hotly debated amongst photographers. As a consumer, I personally want to see some kind of indication of pricing when I visit a website. I feel it would be a waste of time for me and the service provider if their minimum price is way outside my budget. Sharing your "starting at" prices is a good way to go if you don't want to fully disclose your pricing. As a photographer, I think this also weeds out those who are not your target demographic and eliminates that really awkward conversation when you tell someone your pricing and they totally flip out because they can't afford you.
9. Do Include Videos…

…but only if they're amazing! I've seen a few really powerful behind-the-scenes videos on a handful of photographer's websites. I've also seen some really horrific attempts at video that were probably doing more harm than good, especially since the still images in their portfolio were actually very nice. Use video if you're able to produce a good one. Otherwise, focus on a different marketing strategy that will actually help, not hinder you. I made this simple slide show with Animoto, which is fine as long as you stick to simple backgrounds and slide transitions and your music choice is appropriate and legal. You're only as good as the worst image in your portfolio, which include videos on your site.
10. Have a Professional Profile Picture
This should be a no-brainer, but it's one of the most common mistakes I see amongst photographers. You're a professional photographer! Have a professional headshot! Unless it's perfectly crafted and unique, selfies don't count. Trade with a friend, hire another pro in your area, whatever you need to do, but get it done. My favorites are those that showcase the personality of the photographer, like these two of my friend Michael Kinney taken by our other friend Michael Franklin at a photographer BBQ. Seriously! If you're a little quirky and fun, it's great to show that in your profile picture. If you're more serious and corporate, make sure your head shot communicates that. A picture is worth a thousand words. What does your headshot say about you?
[Rewind: Click here for Animoto Discounts]
I desperately need to make some of these changes to my own site. Will you take the challenge and do it with me? Somebody give me a deadline, LOL!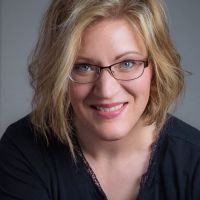 Tanya Goodall Smith
Tanya is the owner of WorkStory Branding Photography in Spokane, WA. Businesses hire her to create story-telling content that sells their high end products and services. She also teachings photographers her unique business model for making serious money as a corporate and personal branding photographer. Find her at
workstoryphotography.com
and
workstoryeducation.com