2014 is coming to a close and I've been reflecting back on the incredible year I've had as a photographer, and as a writer here at SLR Lounge. I'm so proud to be part of this community, which is dedicated to helping you become a better photographer. Here's a compilation of this year's top 10 tips for jumpstarting your photography career, or for moving it forward, if you've already begun…
1. Start With a Solid Foundation

Our Photography 101 DVD has been released and as I review each section, I can't help thinking how much time and money I would have saved as a new photographer if I only had access to a video course as comprehensive as this. Whether you just bought your first DSLR or you've been struggling along for a couple years trying to master shooting in manual mode, this is a good place to start for a solid understanding of technical and artistic photography principles.
2. Don't Make These Common Mistakes

Many photographers, like myself, learned a lot of lessons the hard way. Don't make the same mistakes I made when starting out as a "professional" photographer. Check out my Top 10 Mistakes to Avoid as a New Photographer, Part 1 and Part 2 and then go make your own mistakes, mwahahahaha!
3. Purchase Gear Wisely
With so many choices out there, it's hard to know what gear to buy, especially when you don't have a lot of experience yet. Chris Nachtway goes into depth on how to invest wisely in the gear you need in his article, QUITTING YOUR DAY JOB: THE ART OF PURCHASING GEAR.
4. Don't Quit Your Day Job…Yet

Want to make a full-time living as a photographer? When is the right time to quit your day job? Chris offers more excellent advice in his article, QUITTING YOUR DAY JOB: KNOWING WHEN IT'S TIME TO GO FULL-TIME
5. Step Up Your Game
So, once you've purchased the gear, learned how to use it and decided to make a living as an artist, how do you move forward with success? How do you actually make a career out of it? How do you avoid remaining stagnant and improve your work? Ryan Filgas offers 10 CAREER CHANGING TIPS FOR AN ASPIRING PHOTOGRAPHER. His most valuable piece of advice? Never give up!
6. On Booking Your First Wedding
So, you want to be a wedding photographer? It's easier said than done. I personally recommend working as a second shooter or assistant at several weddings before even giving it a try. There's a lot to learn. In the meantime, Check out our 8 TIPS TO CONFIDENTLY BOOK AND SHOOT YOUR FIRST WEDDING
7. Get Out of Your Comfort Zone

If you haven't tried street photography, I recommend you try it. Getting out of your comfort zone will help you and your photography in so many ways. Check out 5 WAYS TO IMPROVE YOUR STREET PHOTOGRAPHY (AND WHY YOU SHOULD DO A PHOTO WALK ASAP)
8. Improve Your Website

At some point you have to clean up your website and make sure it accurately reflects your brand and the work you want to attract. I'm totally preaching to the choir here because I desperately need to update my website…LOL. I'm like the mechanic without a working car. The cobbler with holes in his shoes. The butcher without beef. Don't be like me. Update your website now. Here are my TOP 10 WAYS TO IMPROVE YOUR PHOTOGRAPHY WEBSITE.
9. Build a Brand

"Building a Brand" is all the rage for businesses and even individuals these days. What's it all about? Veteran photographer Joel Grimes breaks down the basics of what a brand is and how you establish one for your business in our article, THE POWER OF BRANDING IN PHOTOGRAPHY & HOW TO BRAND YOURSELF | JOEL GRIMES. I'll give you a hint, it takes lots of time.
10. The Courage to Live a Creative Life

At some point in every artist's life (or at some point in your week, or day, if you're like me) doubt, fear and questions like, "Is this even worth it?" will creep in to your mind. Only you can come up with the answers, but my experience at the Clickin' Mom's Click Away Photography Retreat brought it all into focus. Do you have the courage to live a creative life? If you need some tips for making it happen, read my article DO YOU HAVE THE COURAGE TO LIVE A CREATIVE LIFE?
Now, go forth into 2015 and be a better photographer. You can do it!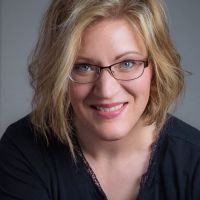 Tanya Goodall Smith
Tanya is the owner of WorkStory Branding Photography in Spokane, WA. Businesses hire her to create story-telling content that sells their high end products and services. She also teachings photographers her unique business model for making serious money as a corporate and personal branding photographer. Find her at
workstoryphotography.com
and
workstoryeducation.com