It's a new year, and that means new trends and the multi-billion dollar wedding industry is no exception. Some of these styles and techniques have hit the trend lists before but are increasing in popularity in 2016. You'll want to mix some of these into your workflow to stay current on what's happening in the industry.
1. Classic Film
In a purely digital age, the world of film photography is making a comeback. Using classic film allows the photographer to create beautiful memories with the richness that is lost in digital imagery. This trend bodes well, as brides are moving back to classic-colored wedding dresses.
Classic film allows the subtle nuisances of the meticulously crafted wedding dressed to be captured, something that often gets lost in a digital and pixelated photograph.
2. Candid Story Telling
In years prior, it was customary to have each picture perfectly set up and staged. This year the trend is to have more natural shots of the wedding couple and their guests; whether it's Grandpa and granddaughter dancing together, infants with cake smothered all over their face, or an intimate moment of the bride fixing her groom's tie. Posed pictures can feel unnatural at times.
3. Post Production Edits
After the big day is over, the fun has just begun for photographers. Enhancing color where you layer or paint a series of colors or faded washes to highlight certain tones and de-emphasize others within the image. Taking it back to Vintage by adding washed out tones of warmer colors like red, yellow or orange to give the photos that timeless feel. Get the feel with textures by changing the image to have a grainer effect that changes the crisp digital photo to mimic film.
Check out the Lightroom  Preset System for the new filmic effects and well as the paper textures pack here.
4. Going Prime
Primes are a "trend" that's been popular for a number of years now, but still worth mentioning since they are so great! We recommend a nice 50mm or 85mm prime lens. The main reason to go prime is quality, wider maximum aperture, lighter weight, and smaller size. The prime lenses have fewer parts within the lens, and it is made for one focal length. Think of it as a sniper rifle compared to a shotgun. The larger maximum aperture (smaller f-number) allows photography in lower light and a shallower depth of field. Thus, you can capture the late night receptions and get incredible distinctions between the crisp subject and the blurred background.
5. Tech for Style
Two very trendy tools for this year are tilt shift lens and art lens. Tilt shift lenses do a nifty trick of creating narrow areas of focus by blurring other parts of the image. This can be applied to wedding videos too, which make for artistic and abstract styles.
In the last few years, the popularity of art lenses have been on the rise. Sigma Art Lenses are wildly popular because of the high quality vs. lower price compared to top of the line Nikon or Canon lenses. Sigma Art Lenses create a very natural look that many stock lenses simply cannot capture. This natural look falls right in line with the trend of "candid storytelling." The Sigma Art series truly is a great addition to any photographer's arsenal.
6. Forget Boring Bridals, Think "Groomals"
Bridals have always been a long standing tradition for weddings. Well, times are a changing, and bridal sessions are starting to include the groom more and more. Couples are going away from a traditional way of the groom seeing the dress for the first time, and they instead have that captured at the bridal session. This alleviates some stress on the wedding day since they've already taken so many pictures.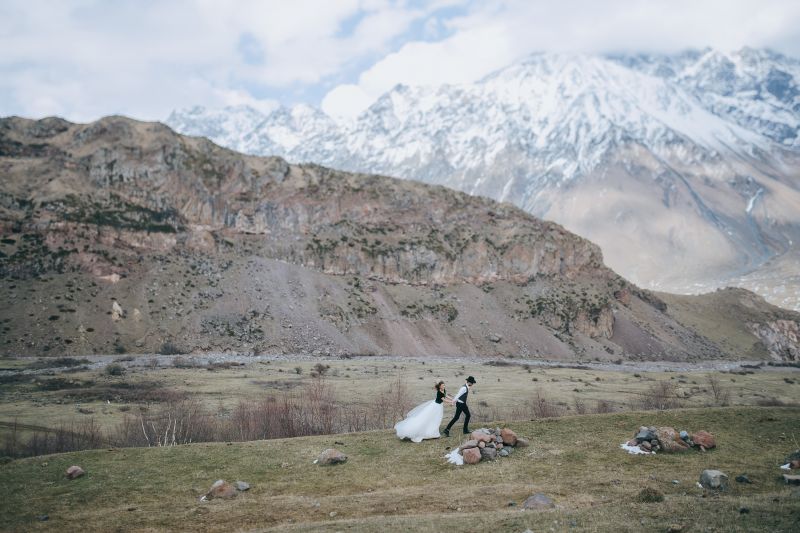 7. Into The Wild
Perfectly placed props, flowers, and pristine locations are dropping the straight lace and heading outdoors. Natural wild settings for Groomals, Bridals and the actual wedding itself is becoming quite popular. This approach is following the trend of creating less ceremony and a more natural experience.
8. Drone Wedding Shots
Aerial wedding photographs are not just for celebrities and paparazzi any more. Your everyday bride is looking to wedding photographers to capture aerial shots of the whole wedding landscape in its entirety and the use of drones now makes it possible to have wedding pictures that were not previously possible.
9. Wedding Hashtags
If it isn't on Instagram, it didn't happen. Bride and grooms are creating their own hashtags and are encouraging their guests to tag their photos when they post them online. The use of wedding hashtags allows the couple and those who couldn't attend to see all the candid moments that were taken on the special day and sometimes, candid moments are the best moments.
10. Be a Storyteller
Long gone are just the wedding day festivities highlight reel. People love stories (why do you think movies exist?) so make every photograph or video tell a story. Each couple has a unique story that is their own, tell that through the photos and video. Whether it's through themed shoots like comic books, movies, or just a totally different feel like wild nature, grungy city, or elegant gardens, show a process rather than just a single moment. Capture the wedding day preparation, the emotions of friends and family, the bride and groom's preparation with mom and dad, the couple's first moment together, and climax up to the big "I do." Tell their story.
Conclusion
Don't be afraid to think outside the box. Be daring with new techniques and incorporate the popular trends, capturing people's thoughts or emotions and the whole story.
2016 is sure to be a busy year for wedding photographers as they gear up to meet the demand of all of this year's top trends in wedding photography. Social media is sure to be full of timeless and classic wedding portraits, as well as fun and innovative shots of the most glorious day in a bride's life.
About the Guest Contributor
Bethany Cleg is a small business owner at Bethany Cleg Photography. She is an avid writer, photographer, and tech geek.  She is passionate about living a happy, healthy, and fulfilled life. She strives to share her insights with the world and to inspire happiness in others. When she's not writing or taking pictures, you'll find her hiking with her family.
Alice Houstons
Photography has been a part of Alice Houston's life for over a decade now. Here at SLR Lounge, she prides herself on being a wealth of knowledge in the latest photography news and tech. Always searching and a self-described "Digital Nomad," she loves learning about those unique stories that inspire photographers around the world!