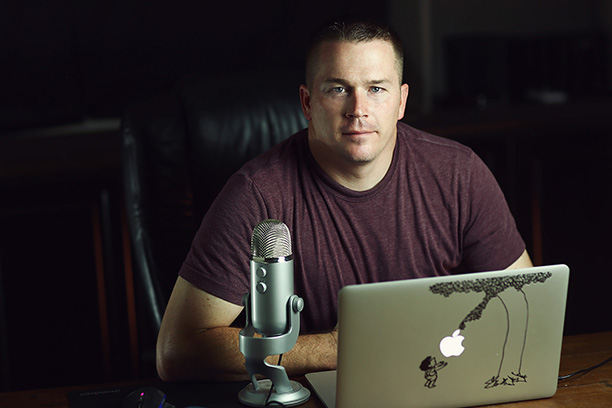 "Trevor, what advice would you give to someone trying to build up their photography business?" That's a question I hear about once a month. As I have reflected back over the last six years after I went full-time as a photographer, I have often wondered what was the best move I've ever made to build up my business. Here's my answer to that question.
Back in 2012, as I was doing my daily dose of studying the news and techniques that were being taught in various photography related blogs, I saw a post that caught my eye. It was on the Fstoppers' website, and it was a request for applications for new content writers. I put together a list of accomplishments and excitedly sent off my request to join the team. I got to eat my big slice of humble pie the next day when I got an email back letting me know they picked others instead. About 6-months later, they put out another request for writers; once again I gave it a shot and let them know I'd be interested. It took five days, but I finally heard back that I landed the position. I was beyond excited!
From that day forward, I started writing articles at Fstoppers, usually 2-3 a week. After a few years, I switched from Fstoppers to SLR Lounge. These last three years of producing content for photographers have been incredible for my business and brand. Participating as a writer on these blogs have been the best thing I have done to help grow my business. Here are seven reasons why, followed by my tips on getting involved.
1. I Became a More Skilled Photographer
Because I would constantly be thinking about what I should write that week, I would always be looking for ways to improve my skills as a photographer. I became more acquainted with my camera, learned the software I used inside and out, and always kept up with the latest info in the industry.
2. My Clients Saw Me As An Educator in the Industry
When your clients begin to view you as an educator in your field, they immediately think of you as an expert in your craft. It makes you a much more enviable, and dare I say, desirable.
3. Other Doors Begin to Open Where You Didn't Even Know a Door Existed.
After writing content for these top photography blogs, I started getting invitations to speak and teach at different photo events. In fact, I just got home from speaking at Wedding MBA this week in Las Vegas and have had the opportunity to speak at the incredible WPPI convention in 2014 and 2015.
4. I Got Some Fantastic Link Backs To My Website That Are Wonderful for SEO.
Now if someone were to search out photographers in Arizona, I wouldn't be near the top, only because I haven't given any thought to SEO over the years and didn't strive for Google referrals. But I'm about to change all that as I examine the new possibility of opening an associate side of my business for 2016. Once I dial in my SEO, I will be able to reap the rewards of all the previous articles I have written that link back to my website with keywords such as, "wedding photographer in Arizona."
It's not hard to slip those kinds of links into an article you are writing. For example, "As one of the top wedding photographers in Arizona, I have found that the Canon 70-200 lens is an instrumental piece of gear." These links are extremely important in Google's rankings and help to validate your personal website as one that is important and should be towards the top of their ratings.
5. I've Been Able to Sell-out Photo Workshops I Teach On the Side.
Because of the articles I have written, I have been able to build a base of followers that are interested in learning about new workshops I announce. As a result, it's been easy for me to sell-out workshops. I don't take my role as a workshop instructor lightly though. I take advantage of the two days I have with my students to teach as much as I possibly can. Here at SLR Lounge, we are developing ways in the future for our writers to share even more about their workshops as we believe we have some of the most caring and qualified instructors writing on staff. We are excited to be able to use those benefits in the future to reach out to even more people.
I am going to tread lightly with this next reason because it doesn't happen often.
6. Occasionally Writing for These Blogs Gets You Some Awesome Free Stuff.
It might be some software you review, maybe a cool new Kickstarter that you talk about or just a low-priced piece of gear. Sometimes, it makes more sense to the company that you keep it than ship it back to them. That doesn't mean we get to keep cameras or lenses. That would be nice, but, unfortunately, it doesn't work that way. After having some time with the blog, it is fun to be called on to test new cameras or try out a brand new to market lenses. Just keep in mind those jobs usually go to those that have been around for awhile.
7. Lunch Money
Writing for these blogs does not mean we can hang up our cameras and retire as a photographer. But, we do make a few extra dollars that will cover a nice lunch for a friend and I at Chipotle. One time another photographer alluded to how much money the writers of these blogs must make to put the content together. I chuckled. The job is not about the money. In fact, blogs, in general, don't make a huge sum of money from advertisements. Essentially enough to cover expenses.
Usually where they can see a profit is from the sale of additional products on the site such as Lightroom Presets or video tutorials such as the Lighting 201 video that was just released here on the site. Having articles on the site is to drive viewers there so they can be introduced to the new products available and see if it's a good fit for their business. If you think you'll make big moola writing for a photography blog, you might be a bit disappointed. That said, my exposure on the blog has driven lots of paying business to me.
If you are interested in getting involved as a writer and boosting your photography business and brand. Here are a few tips to consider.
Don't be afraid to ask. When I asked Fstoppers back in 2012, I was still in my "teen stages" as a photographer. I didn't understand everything and constantly compared my work to others much better than me. Heck, I still do. We all do. Don't let that deter you from getting involved.
Understand that some of the best articles are the most basic ones. While you might think everything has already been written about before often the most basic of articles are the ones with the most viewership. There are thousands of new people picking up cameras every day. They are all discovering these blogs to help them learn. A simple article talking about focus, exposure or white balance can be a huge resource for those wanting to learn.
Realize that the first few articles will take hours to put together. But once you get the hang of it, you won't be investing as much time. Just like any system, once you get it down, things flow a lot easier.
Consistency is key. If you want to build up your business by being a content marketer, you have to be consistent. Writing an article once every few months won't generate the buzz you need. Schedule yourself a time each week to put something together. Pick a day or two and stick with it.
Ideas will come to you throughout the week. Have a place to jot them down. I have an Evernote set up where I write down ideas that come to mind. That way I can pull from that resource whenever needed to put something together. One of the best resources for ideas is in photography Facebook groups. Often you'll see questions from others in those groups that can become fantastic articles.
Write one or two articles now as practice. You can then send those articles as a demo of your work to your favorite photography blog. Let them know you'd be interested in working with them. For the majority of us, our career is photography so don't worry if you didn't major in English in college.
If you despise writing and would rather create videos, there is a lot of opportunity for that as well. Again, reach out to your favorite blog and let them know you would like to share a video each week.
To wrap this up my last piece of advice is to pick a blog that you respect and that has a good reputation in the industry. I decided to switch over to SLR Lounge about six months ago because of the amazing guys that run the operation. Not only do they run a fantastic and incredibly instructional blog, but they also run one of the California's largest and most reputable wedding studios. These guys are in the trenches with all of us shooting 3-4 times a week, often doing double-header weddings during the busy season. Their hard work was an example to me and made me want to work side by side next to such great guys. Not only that but they built a team of truly talented people around them. Then to top it all off they sincerely care about helping the industry.
I've learned so much from all their tutorials and articles and just love the enthusiasm they have to help make our industry the best it can be. In conclusion, if you are sitting on the sidelines reading this and have an inkling to start writing yourself. JUMP! It was the best decision I ever made for my business, and I am confident it will be for yours as well.
I hope some of you reading this article take action and seek out opportunities become a content producer for your favorite photography blog. If you are interested in seeking out an opportunity at SLR Lounge, here's the inside info. Send a writing sample or link to an article you have on your own blog to our Managing Editor, Hanssie at Hanssie@slrlounge.com.
In closing, if you want to become a better business, you need to be taking action. I took action back in 2012, and it was the best move I ever made for my business and career. I've learned so much over the last 3 years, I've made friends outside of my genre of photography, I've earned business because of my position as an educator in the industry and most of all, I have had the most amazing experience throughout it all.
Trevor Dayley
Trevor Dayley is a full-time wedding photographer based out of Arizona. He has six kids and has been married for 15 years. When he is not shooting weddings, he loves helping the photo industry. He has written hundreds of articles and shared countless tutorials. In 2014, he was named one of the Top 30 Most Influential Photographers in the Industry and one of the Top 100 Wedding Photographers by BrandSmash.