Milton Berle made many a humorous comment about marriage. In fact, marriage in itself may very well be the most enduring topic of discussion and witty proverbs in any setting, in any time. It seems every literary great or celebrity has been quoted on the topic, and in typical 'quote' fashion, it's almost always tongue in cheek.
"When a girl marries she exchanges the attentions of many men for the inattention of one." -Helen Rowland.
"Getting married for sex is like buying a 747 for the free peanuts." -Jeff Foxworthy.
The list goes on…
[REWIND: Wedding Dress Photography Tutorial]
Though being an intelligent person, who realizes that celebrities aren't necessarily beacons with which to navigate your self conduct, if you're a guy who mentions getting married around a group of married men, you'll likely be greeted with deep breaths, and a wave of cynicism. It's like the word itself connotes something negative. But just because they've learned little from, and likely given less to, their relationships, doesn't mean you have to be as benighted as them. Getting married doesn't have to be a punchline. And there must be something to be said for marriage, and the wedding at least, when you see a couple like Lisa & Alex get married to the tune of 55 times…and counting!
When most search for a wedding venue it's usually somewhere logical where family are near, that's accomodating, or with the right priest or pundit. When Lisa and Alex were deciding, their decision was to get married in, what seems to be, almost every city to dot a map of the globe, to figure out which one is best. That's pretty spectacular.
What was planned, and is shaping up to be, their ultimate adventure, the couple are driving and shipping around the planet in their 27 year old camper van, 'Peggy,' in exotic, unusual, and fascinating places, embracing the customs and traditions of local cultures. These places are all over Central, South, and North America, Europe, and now into the Middle East and Far East. The next leg of the journey to be Turkey, Georgia, Iraq, Dubai, Bahrain, Jordan, Iran, Pakistan, India, Nepal, China, Laos, Vietnam, Thailand, Cambodia, Japan, South Korea, Mongolia, Philippines, Malaysia, Indonesia, New Zealand and ending up in Australia likely at the start of 2015. This will bring their total countries married in to an astonishing 75!
Wonderfully, they invite people they meet to join them on this journey, and one imagines making friends for life along the way. Now, this is the age of media, and what would this trip be if each wedding wasn't photographed? Can you imagine trying to decide on a photographer for all these different spots? They've done a marvelous job hiring along the way with an impressive 'living album' to show.
[PRODUCT HIGHLIGHT: Natural Light Couples Photography Workshop]
The task seems to get easier as their media popularity grows, each place they go, photographers are often suggested to them or even contact them directly. It's remarkable to see all the weddings and how different each is especially with the same couple. We asked them for their top 5 favorites so far, and while hard to choose, this is what they came up with:
You can keep up with the duo as they literally globe-trot on their '2 People 1 Life' blog, where you'll find new pictures, lists of photographers and videographers hired, details of the weddings, and all sorts of other info. They have a budding community, and you can get updates via their newsletter. Would you get married more than once?…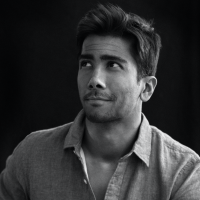 Kishore Sawh
A photographer and writer based in Miami, he can often be found at dog parks, and airports in London and Toronto. He is also a tremendous fan of flossing and the happiest guy around when the company's good.