Advertisement
WPPI 2012 Notes – Marketing in the New Era with Dane Sanders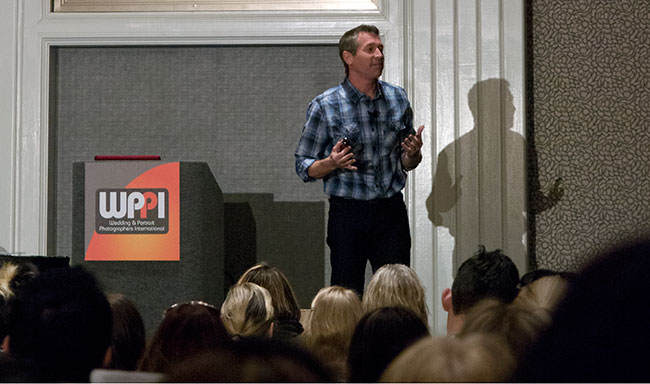 Acclaimed Photographer and Motivator
Dane Sanders is a well-established wedding and portrait photographer based out of Newport Beach, CA. Named as one of the 30 most influential living photographers of the last decade by Photo District news, Dane also had his work featured in various publications and websites including Shutterbug and Rangefinder. Moreover, he is also a motivational speaker in the photography industry and an author of two books, Fast Track Photographer: Leverage Your Unique Strengths for a More Successful Photography Business and The Fast Track Photographer Business Plan: Build a Successful Photography Venture from the Ground Up.
Our Reality
Right from the beginning, I could tell that this is going to be a seminar that can really help change the trajectory of a photographer's business. While it is easy to get caught up with the latest and greatest gears and gadgets at WPPI, the biggest impact that I got from the convention is from the workshops like this on how to better my business, especially with the advent of our digital landscape and how we deal with it.
Back in the days, photography as a profession was left to those few who were willing to put in the countless hours perfecting their technique in both the field and the darkroom. With relatively few competition, the market was pretty much wide open. Nowadays, the accessibility of high-end camera gear, better photography technology, and the internet have essentially flattened the playing field. Dane said that "anything that digital touches, it burns," meaning that digital has not only allow more people than ever to be able take great photos, but to also share them to more people than ever. While some professionals may look at the over-accessibility and over-saturation as a hindrance, Dane said that we should view it as what author Seth Godin sees it, as "the best shot you've ever got" to get in and succeed.
What is Your Frame?
How many of you have a frame of self-doubt when it comes to your profession? Do you find yourself procrastinating because you're not sure how and where to begin? When we decide not to start on something because we don't know how to do it or where to begin, it is because we fear failure due to the lack of knowledge. In a way, however, we end up failing because we pre-empt our fear of failure by failing to start. He said that "if you find yourself not moving, start moving so at least you are in the game."
Rather than getting stuck on the "how", you must find the "why." That "why" comes from your purpose and vision. In order to move forward, YOU must be at stake. And once you have a strong enough "why", then you'll find the "how." Then you can start to embrace reality as what it is, your starting point.
To me, photography is as a profession is different than most jobs in a way that photography is like navigating an ocean as opposed to driving on the road. A job is like a road, there are clear boundaries, lanes, and speed limits, etc. Photography is like navigating the waters. You still have to have a destination (your why), but the path is not perfectly straight and you must constantly correct your course. There are no lanes or sign posts and you must use your intuition a lot more.
Marketing in a Digital World
"How do you market to a digital world that is giving everything away for free?"
1) Local is the new Global – We have to embrace the idea that we must provide personal service and be able to utilize the internet to do so. The website that he recommends all of us to check out is NextDoor.com. Think of it as a Yelp for only those who lives in your neighborhood. Not only would you be able to help connect your neighbors with each other, you can establish yourself as the "go-to photographer" in your community.
2) Build your personal narrative – You have to be able to come across as more than just a photographer. What is your personal story that allows you to connect with your clients? The best photographers are the one that doesn't let the camera separate him or herself from the client.
3) Build trust with your clients – In order to build trust, you must also be able share your vision with your client, to get them engaged in how and why you are shooting the way you are, as well as connect your personal narrative with your clients.
Three Steps to Succeed
1) Be – Know who you are and be you at any cost. With the overabundance of photographers around us, who you are as a person and as a brand is more important than ever.
2) See – Make resolve to develop and clear your vision, and make a path. A clear vision helps to define your brand, and together, they help you see what path you want to engange in.
3) Do – Take action. Train as if your life depends on it, and keep moving forward. Break down your vision to what you want to do in your business this year, this month, this week, today. Take action.
Conclusion
So to summarize, the internet brought sweeping revolutionary changes to our profession. The "hows" may have changed, but your "whys" should remain steadfast and strong. What I got out of Dane Sanders' seminar is this: Passion drives our profession. Have the right frame, trust and be yourself, and develop your vision!

Stay creative!

Article written by
Joe Gunawan | fotosiamo.com
Joe Gunawan is a commercial and fashion photographer based out of Los Angeles, California. Check out his work at fotosiamo fotografie
Advertisement