Advertisement
WPPI 2010 – Jim Garner Platform Notes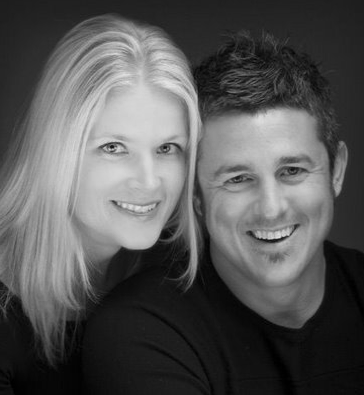 Jim Garner's platform lecture focused on a relatively new photography business model called "experiential wedding photography." Simply put, experiential wedding photography is "when the focus of 'client experience' is more important than EVEN the act of capturing the image." I found the concept quite thought provoking, and was excited to see what Jim had to say on the subject.
The Experiential Business Style
"For most cultures, the wedding traditions and celebrations can last an entire day and even extend across multiple days." Jim's question is, "why in our culture is the wedding day so fast paced, hectic, and centered around not seeing each other prior to the wedding?" In all honesty, we at LJP have asked ourselves this question several times as well. Why is the act of a couple seeing each other on the alter more important to them than the actual experience and enjoyment of their wedding day?
Jim's style of experiential photography requires that the bride and groom take a relatively unorthodox approach to the wedding day timeline. Rather than seeing each other on the alter for the first time, the couple would meet much earlier in the day. Plenty of time would be allotted prior to the wedding to allow for couples, formals and bridal party shots. With this style, the couple approaches the wedding day more as a day of fun and enjoyment allowing them to relax their way through the day and enjoy time with their guests after the ceremony (since all the required pictures would have already been taken care of earlier).
Stop Taking Pictures and Start Story Telling
While the term "experiential wedding photography" is relatively new. The concept of spacing the day out more and taking care of all needed pictures prior to the ceremony has been around a while. We learned of this pre-ceremony shoot from another photographer needing no introduction, Robert Evans. Currently, around 75% of our clientele change their wedding timeline to see each other prior to the wedding in order to have a more relaxed and "experiential" wedding day. However, clients will only consider this option after they have been properly educated as to why they would want to see each other prior to the ceremony. Without educating them of this option, you could bet that 95% would stick to the traditional wedding timeline.
However, Jim's concept of experiential wedding photography goes much further than simply the wedding day. It extends to all of the presentation and communication prior to the wedding, the engagement shoot, as well as the presentations, communication and product delivery after the wedding as well.
Jim's whole approach to the actual wedding day photography can be summed up by simply saying, "stop picture taking and start story shooting."
This simple statement may sound obvious to many of us. In fact, many of us may even argue that we are already "story shooting." But, to those people, I would ask, how often are we rushing through the day just trying to keep up with everything versus taking the time to artistically envision each shot as a part of the wedding day story? Do we allow ourselves the time necessary throughout the day to think about how we want to tell the client's wedding story through our artistic eyes? In addition, is the timeline truly allowing for wonderful story telling? If the entire day is one giant 12 hour scramble, then when would there be time for the girls to pop some bubbly and enjoy themselves during preparation, when would the guys be able to chill at the bar and grab a drink prior to the ceremony?
Moving away from the wedding day, are we providing clients with an experience when we meet them for the first time? Do our presentations and albums ooze experiential wedding photography? I would venture to guess that most of us are probably saying to ourselves right now, "I can do a much better job presenting my work and improving the overall client experience."
Results of the Experiential Style of Wedding Photography
The experiential style of wedding photography will allow for:
1. More experiences which equates to more memories and stories that you the photographer are able to document
2. More stories which will enable you the photographer to sell additional prints and album spreads
3. More profit from capturing more moments and memories
4. More referrals from providing an overall better experience to your clients
Selling the Experiential Style of Wedding Photography
In order to educate and sell our clients on this style of wedding photography, we need to first:
1. Describe different cultures! Tell each and every client how other cultures celebrate weddings across and entire day or even multiple days. Describe the enjoyment and memories that are created from this approach.
2. Communicate value for services! Your clients are probably paying you a good chunk of change for your creativity and artistic eye (if not, raise your prices). Make sure they understand that in order for you to deliver the best service possible, the experiential timeline is key.
3. Show it! If you want to sell the experiential style of a wedding, then you must show it to your clients. Prepare an album with the full experiential story telling style. Let them appreciate the memories and experience availed by this style of wedding photography.
4. Presentation is Key! The experiential style relies heavily upon presentation (which in my opinion may make it difficult for many). How are clients experiencing our photos and albums? Are they sitting down to a drink in a comfortable studio and business environment; or are you meeting them in locations where you are unable to give a high quality presentation? Take a look at Jim Garner's studio below.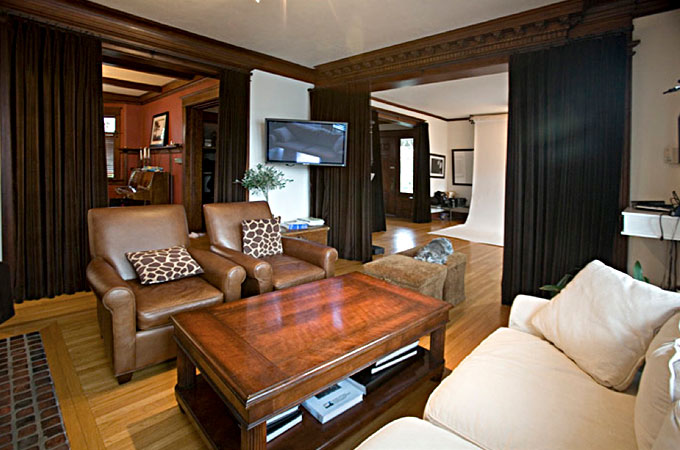 Part of your presentation is also in your marketing collateral. Do you have professional marketing collateral that clients may take away from your meeting? Check out Jim's marketing collateral kit below.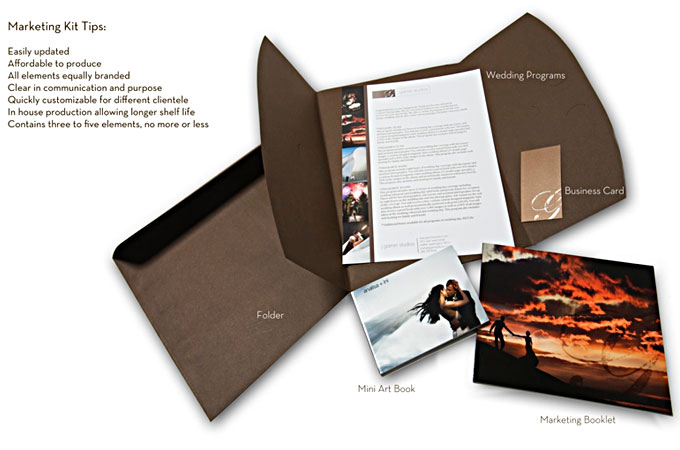 Jim's Sources of Business
1. Referrals from previous clients
2. Website: showing images in a story format
3. Coordinator referrals
4. Bridal party members
Prior to the Wedding
To avoid being just another vendor doing a job, prior to the wedding, make sure you are doing the following:
1. Regularly follow up with the client. If you simply call one time close to the wedding day to review the schedule, you missed the opportunity!
2. Ask if there is anything you can do to help with the coordination of the schedule. If you don't offer help regarding the coordination, then you are no longer the authority on the wedding day experience.
3. Tell them a story about how "we just experienced a really fun wedding, we…"
4. Create the engagement book in story format with a lot of spreads
The Goal of The Experiential Style
The overall goal of the experiential style of wedding photography is "to create trust, to become a confidant on their wedding day. To get into their inner circle. To become part of their plans. To avoid being… just another vendor."
I feel like this statement rings very true to myself, and my partners at Lin and Jirsa Photography. We have seen it both ways where we have felt like simply another vendor, as well as where we have felt like a part of the wedding party and family. It goes without saying that our ability to artistically story tell increases tenfold as we are able to be part of the wedding day rather then hired help.
If you have any additional insight on this article, please feel free to comment below.
Article by,
Pye Jirsa of Lin and Jirsa Wedding Photography, Los Angeles and Orange County Wedding Photographers. Also, authors of Lin and Jirsa Blog
Advertisement