Advertisement
WPPI 2010 – Doug Gordon Flow Posing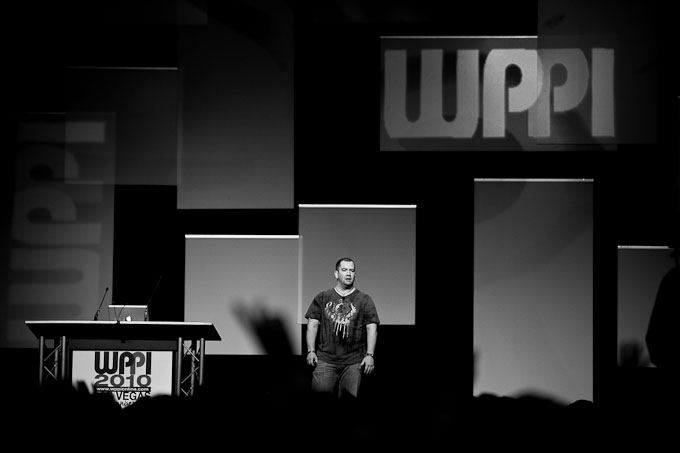 Doug Gordon is one of our favorite photographers for three simple reasons, none of them being his George Costanza-esque boudoir photo mind you.
First, Doug is simply outstanding at what he has coined as "flow posing," a system of seamlessly moving from one pose to the next creating a string of 30 – 50 different unique poses all within a few minutes.
Second, Doug is an amazing businessman. He knows what clients want, and how to deliver a product that every client will always love.
Third, Ok… I lied. The third reason is Doug's sexy boudoir photo. In case you missed it, I will pause a moment for you all to enjoy and let the visual delight sink in.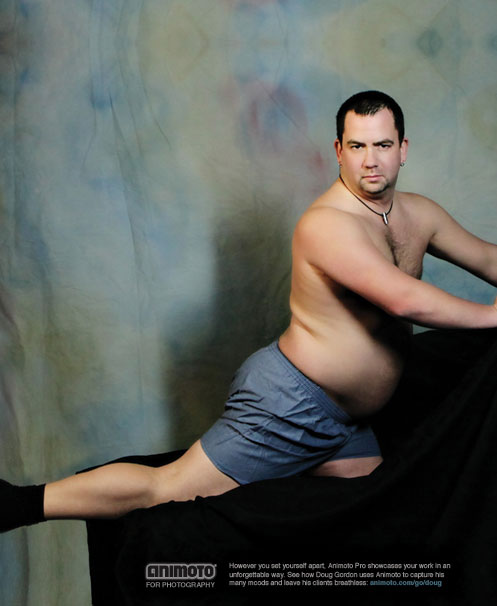 … Ok, moving on…
Doug's Inspiration
This year, Doug's lecture began with a nice intro along with 15 – 20 minutes of inspirational goodness. Below are some of my favorite quotes that he used in the motivational portion of his lecture.
1. "Our clients know what they look like. Are we showing them who they are on the inside?" – What a poignant line. I mean, how often do we get caught up in making clients look good in front of the lens, while forgetting to really show their personalities through the emotion and story of the photo? While I believe it is it is our job as professionals to make our clients look great, I also think it should be just as important making sure that we are able to capture their personalities through those photos as well.
2. "Commitment is realizing there is no expiration date." – If you are truly committed to a goal, it doesn't matter how many times you fail, nor does it matter how much time you take. If you are truly committed, you will do whatever it takes to succeed at your goal.
Doug's Shooting Style
Here are some notes on Doug's shooting style:
Favorite Lens: 70 – 200mm F2.8 IS
Shooting and Exposure Mode: Aperture priority using spot metering (metering under the subjects eye)
Composition Style: Wide open apertures at F2.8
Light Modifiers: Doug Gordon's Torch Light and a standard reflector
Posing Style: Posed photojournalism (i.e. posing that recreates natural moments)
Doug's Business Practices
For anyone that has seen Doug's lectures or videos, you will notice right from the word Ëœgo' that Doug strives to be different from other photographers. He strives to be different by doing the following:
1. Creating photos that sell themselves – What does that mean? Well, simply shoot shots that client's will purchase! When it comes to framing a picture, you will be hard pressed to find a client that frames a nice detail shot of the table centerpieces. Rather, create shots that clients want by finding Grandma or Grandpa and shooting a nice shot of them with the couple, creating beautiful father/daughter moments, etc.
2. Your work is your reflection - What do you let go out of your studio? Do you edit everything the client sees, or just some? Whatever goes out of your studio is a direct reflection of it; make sure that reflection is a good one.
3. Sell through sizing – Doug is all about creating unique size prints not only to create unique images, but also to ensure that clients purchase both prints and frames through their own studio. This enables Patken Photography to increase their revenue potential significantly.
Doug's Flow Posing System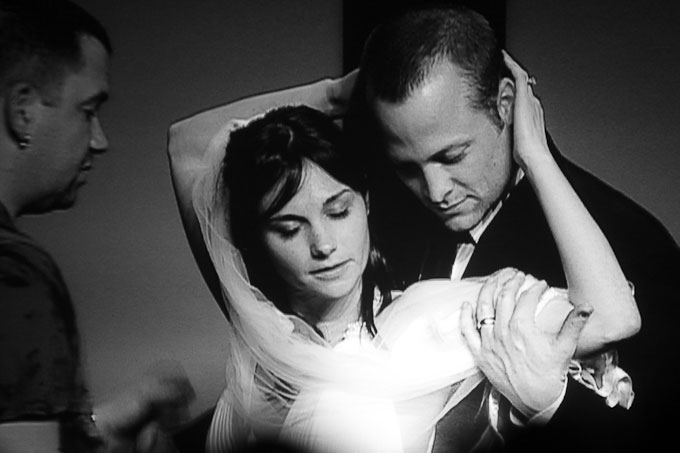 Forgive the shot above, it is a shot of a video projection since we were sitting a mile away. Anyway, describing Doug's flow posing system with words is like trying to recreate Van Gogh's Starry Night with a fat black Sharpie marker. It's just cumbersome, time consuming, and it really wouldn't do the original masterpiece much justice. So, instead I want to discuss a little bit of his methodology and then simply tell you to try to catch Doug on the tradeshow floor at his booth #214 to see him work his magic.
Doug believes strongly in systems, and frankly, I couldn't agree more. In Doug's own words:
1. Systems create consistency
2. Systems create a guarantee
3. Systems always tell the story
4. Systems start with the flow
Doug, you are definitely preaching to the choir here. We love systems, systems for shooting an engagement, couples session, wedding, etc. While we allow ourselves room for complete creativity and artistic control, we have systems in place to ensure that we achieve a consistent product with each and every shoot.
Overall Impression
For those that have not heard of Doug Gordon or his flow posing system, his class will be a virtual photographic epiphany taking you to new levels of comfort when it comes to posing and creating unique shots. For those that are familiar with Doug and his flow posing system, perhaps through previous lectures or DVDs, you may find that the majority of the lecture content has not significantly changed. However, towards the end of the new lecture/DVD, there are a significant number of new poses (probably numbering around 50 or so new poses).
So, for the novice, and the veteran, we rate Doug Gordon as a definite must see. Be sure to catch him at the tradeshow where he will be re-performing his flow posing system, as well as selling his products at booth #214.
– Pye
Advertisement