Advertisement
Pretty Presets Old Hollywood Glam Combo Pack Lightroom PresetsReview
I think we all know how frustrating it is to purchase Lightroom Presets or Photoshop Action packs and receive around 50 actions and presets while only around 2-3 are actually usable. In fact, it reminds me of the good old days of running to the local music store to pick up the latest music CD (I will refrain from naming specific bands for obvious reasons) and finding out that you paid $20 for 1 good track while the other 12 seemed to just be "thrown in. "
When we got our hands on Pretty Presets Old Hollywood Glam Collection we were quite pleasantly surprised. While there were a handful of presets that didn't quite suit our taste, they are all high quality presets and the majority of them were quite awesome.
This preset pack includes a total of 44 presets, 10 of which are designed for workflow in that they will tweak exposure, clarity, fill light, etc. The remaining 34 are the creative presets that will "Hollywood Glamify" your selected photo.
We selected just a few of our favorites from the Hollywood Glam pack and compiled them into a little side by side comparison below.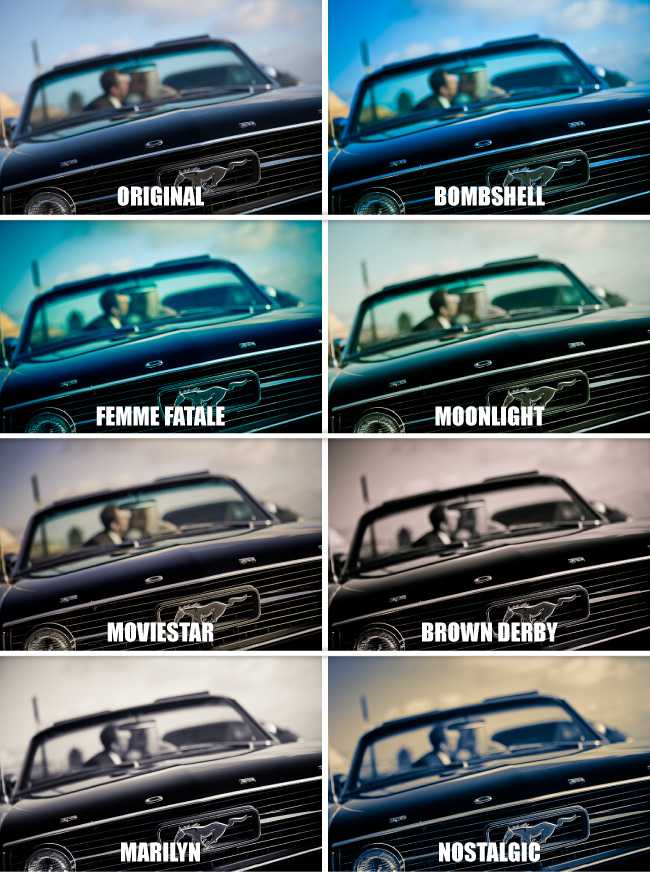 Unlike Photoshop Actions, Lightroom Presets are awesome for a number of reasons, probably the greatest of all is your post production education. While a Photoshop Action can be doing a number of complex things that are difficult to follow and understand, Lightroom Presets are very easy to analyze. This makes them a wonderful learning resource for photographers as you can purchase a Lightroom Preset pack and then customize and modify to your own taste.
Any time you are purchasing Photoshop Actions or Lightroom Presets we would always recommend that you review the before and after shots in detail prior to purchasing. The quickest way to throw your money down the drain is to purchase a preset pack based on seeing one or two actions, then finding out later that nothing else fit your photographic and post production style.
This is where we give Pretty Presets a big thumbs up as they show before/after images for every single preset for every one of their products.
While the $71 price tag isn't cheap, we found Pretty Preset's Old Hollywood Glam Combo Pack to be very worthwhile and therefore has earned our SLR Lounge Stamp of Approval. For anyone that is into the old Hollywood look, you won't be disapointed as this presets pack does an excellent job mimicking the old Hollywood style.
Congratulations to Pretty Presets for creating a great product. If you are interested in purchasing this or any of the other products sold by Pretty Presets please click any of the links in this article or click here.
Review by
Post Production Pye
SLR Lounge Senior Editor
Partner of Lin and Jirsa Photography
Advertisement