Advertisement
One of the first Nikon D800/D800E Comparisons!

So now that the Nikon D800e is finally trickling into stores around the world, websites are starting to come out with comparisons between the Nikon D800 and the Nikon D800e. As you may have known, the difference between them, aside from the extra cash, is the removal of the detail-reducing AA filter in the D800e.  The downside of this higher resolution, of course, is the increased chances of moire.
So is the 800e worth the extra cost? Is the moire really going to be that bad?
Well, Michael Reichmann of Luminous Landscape got a chance to compare the two when his local camera store called him and told him that his D800e has just arrived.
And from the looks of it, the 800e is sharper, at least for the outdoor shot. Both cameras used the Nikkor 85mm f/1.4G lens, and both photos were "taken on a large RRS tripod, with an Arca Cube head, standing on a concrete parking structure. There was no wind. Mirror lockup was used along with 3 second delay. Exposure was set to Aperture priority, ISO 100. The E metered at 1/640sec while the D800 at 1/800sec, a trivial difference."
Here is his 100% crop with the D800e on the left and the D800 on the right: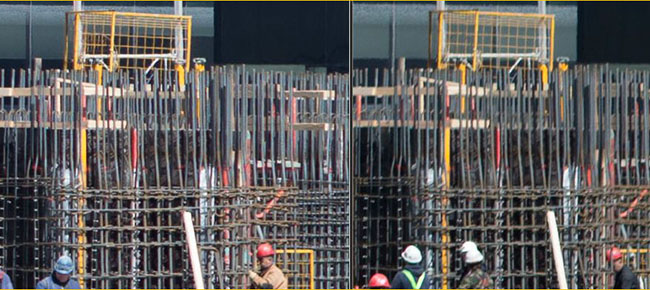 Now, for the macro shot of the Canadian $20 using the Sigma 150mm f/2.8 APO OS at f/5.6 with the same tripod set up as the outside, what I see here is that the resolution detail is not as different as the first photo, BUT, there is also very little signs of moire.  Michael stated that he hasn't found any moire on the D800e.
Here is the 100% crop with the D800e on the left and the D800 on the right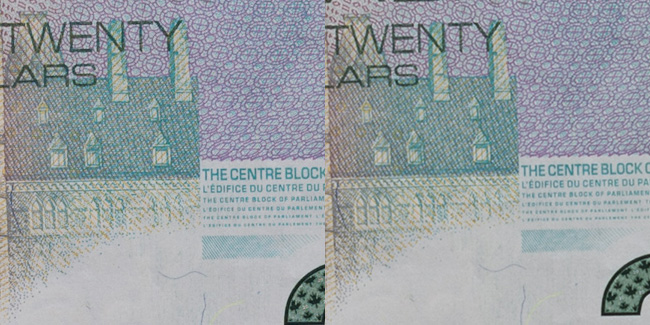 I guess we will see once the D800e is used to shoot clothing or fine mesh if there really is more moire, if any, compared to the D800. What do you guys think?
Be sure to read the rest of Luminous Landscape's comparison of the Nikon D800 vs. Nikon D800e.

Stay creative!
Advertisement