Advertisement
Dave Hill: Making a Moving Still Image for Fiat Abarth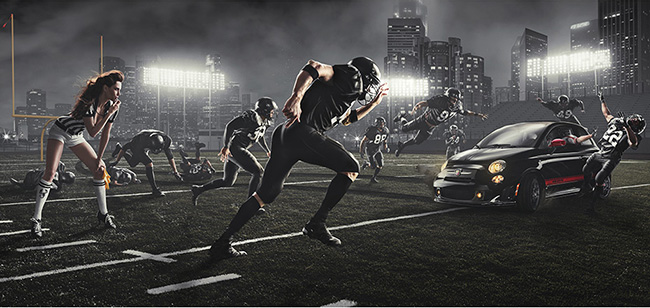 Master photographer and composite photographer Dave Hill shot a "moving still image" campaign for Fiat Abarth using a combination of stills from a Canon 5D mkII and Hasselblad H3D-50 and slow-motion video from Phantom Flex and Phantom Gold. If you haven't heard of Dave Hill, he is well known for taking a dozen or more separate composites and seamlessly blending them to make a complex, yet believable image.
For this commercial, Dave shot multiple composites in both video and stills of football players, the Fiat Abarth, a female model referee, and flying dirt at the wonderful Studio Orange in Los Angeles and a Miami studio. While we never got to see the pre-planning and conceptualizing of this shoot, I'm pretty sure that everything that was individually shot was planned out in advance and thoroughly thought out. It is still amazing though that Dave can really put all of this together while lighting it in a consistent way that makes them blend together, especially since parts of it was shot here in LA and the other parts in Miami.
Although there is a lot more production involved in these types of moving still images, I would love to see more photographers, including myself, experiment more in this type of hybrid. I'm not quite sure what is the proper term for this type of work, but it's great to see.
So sit back folks, and enjoy the video!


So readers, we would love to see some of your composite work. Here is a composite that I did last year consisting of the same two models in all three chairs. This is actually a composite of about 5-6 different shots taken with the Olympus E-PL2 and a Panasonic 20mm f/1.7 prime (full frame equiv 40mm).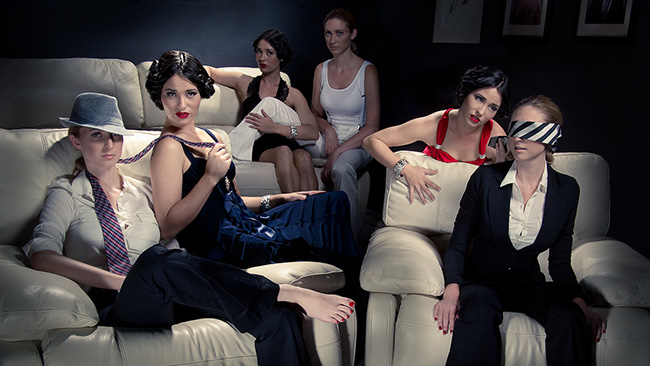 About Dave Hill
I am a commercial photographer living in Los Angeles with my wife and 2 siamese cats. I was born in 1979 and grew up in San Diego. My love of photography has evolved over the years, and now seems to have branched out to the extreme sides of the spectrum. On one hand, I love doing big, epic digital composites. The possibilities are endless, as are the hours spent on it. It's an obsession, really.
On the other hand, I yearn for being outside, away from the computer, no lighting equipment, getting back to the kind of photography that got me started in the first place – shooting B/W film. Shooting with such limitations is very liberating.
Either way, as I move forward, I want to focus more and more on telling stories, not only with photographs, but with films as well. I love what I do!
Advertisement