Recent Articles
If you'd like to meet some of the team behind SLR Lounge, and if you live in the Orange County area, …you're in luck this week! Some of the SLR Lounge senior editors, who are photographers at Lin & Jirsa Photography, will be speaking at the OC SMUG this coming Thursday, March 22nd. The time:
Here's something interesting! Zeiss, a maker of legendary lenses throughout the decades, may finally be making their first zoom lens for the Nikon and Canon DSLR mounts. It looks like it'll be a 70-200 f/2.8, and it's quite a beauty! Check
You know that phrase, "grinning from ear to ear"? That's me. Right now. Because of page 252 of the Canon 5D mk3 owner's manual. Party
Advertisement
Looks like Imaging Resources has already put both the Canon 5D mkIII and the Nikon D800 through their studio test and wow, I got to say that the sample photos are very revealing.
The Canon 5D mk3 is going to start hitting shelves in a week or so; March 22nd to be exact! But the question is, …should you buy one? Well, what kind of photography do you do? While a traditional landscape
For the Apple enthusiasts out there, today is a big day. The iPad 3 is being announced as I type this, in all it's glory. The specs so far: 3.1…
Robin Wong has published the first of his 4-part review of the Olympus OM-D camera during his trip to the Batu Caves in Kuala Lumpur. The most amazing discovery that Robin made is the much-improved dynamic range! Seriously, the photos are incredible! So much highlight and shadow details preserved! As a dedicated micro 4/3 fashion and commercial photographer, this is one of the cameras that I am most looking forward to this year, along with the anticipated Panasonic GH3
Advertisement
To celebrate the new price, Adorama is having a limited-time sale that adds $600 worth of extras, …for the same $2199 price! Click…
This is the holy grail of hotshoe flashes, ladies and gentlemen. The Canon 600EX-RT. Built-in radio wireless control! No more fidgeting with crazy piggyback trigger systems, worrying about batteries in three different devices instead of just one, etc. And, my favorite part- no
The Canon 5D mkIII was barely announced and the first movie is already out!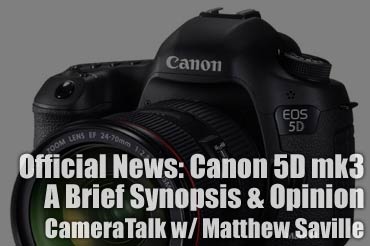 Finally after a record-high diversity in rumors, the new Canon 5D mk3 is here. Some people thought it would have nearly identical specs to the 5D mk2, with just a few more megapixels and some video improvements…
Advertisement
B&H is listing the Nikon D700 at $2199, and so is Adorama.com… That's $500 price drop from the previous tag of $2699. WOW!!! (We will update this post whenever Amazon gets on the bandwagon of course, but for now they're playing hardball with "only" a $300 price drop) ;-)