Author Archives: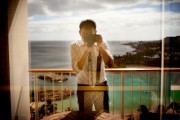 For a few of us, photography was inspired by our elders while growing up. Whether it was our parents, who were already running a photography business, or our uncle giving us a toy camera when we were eight, seems like it would be natural to choose photography as a profession. But for most of us, we got into the business of (wedding) photography at a later stage in our lives, most likely because we simply liked to take photos and wanted to share them with our family and friends.
WHCC (White House Custom Color) is one of the larger full service print labs. From enlargements, to albums, to canvases, to pretty much whatever you can think of, WHCC does it all (and they do it quite well in our opinion).
Queensberry is a New Zealand based album maker specializing in creating high-end wedding albums.
Advertisement
PickPic provides a online proofing platform for photographers to allow their clients to find and purchase images online. Once the client purchases images, they can then be printed through WHCC (who actually recently purchased PickPic), or through a lab of your choice.
Photo Pie is a maker of photography backdrops and costumes. We thought their booth was quite unique, so we stopped by to talk to Jeremy Smith, the founder of Photo Pie.
Mike Colon's photography, educational and philanthropic efforts (with Thirst Relief) have made him quite well known throughout the photography industry.
Leather Craftsmen has been making high quality leather albums for nearly 70 years. Industry wide, Leather Craftsmen albums are regarded as the benchmark in album quality.
Advertisement
Not only is Christine an awesome photographer, this powerhouse couple are quite the movers and shakers in the wedding photography industry. Check out the video to meet Iaan and see just what he and his wife have been up to!
The Fundy Album Builder won the "Hot One" award for 2011 in the area of album creation. So, we felt like we needed to meet and chat with Andrew "Fundy" Funderburg, the founder of Fundy software.
Forbeyon is one of the many album makers showing off their goods at WPPI 2011. But, what really caught our eye when scoping out the goods was their unique packaging options for their albums.
Drop it Modern is a designer/producer of studio backdrops, and some pretty dope backdrops if we may be so bold to say. Their designs feature unique materials that give their backdrops a luxurious feel and texture.